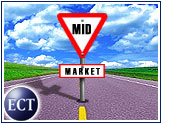 When industry experts gazed into their crystal balls in late 2002, they predicted 2003 would be the year of the CRM mid-market. With more than half the year gone, those optimistic forecasts have not materialized.
Instead, rapid consolidation and court fights among industry giants, coupled with Microsoft's dramatic entry into the marketplace, have thrown the CRM mid-market into disarray. Companies that seemed poised for growth are holding on for dear life, while others are bracing for the impact of merger mania.
When the dust settles, the CRM mid-market may look nothing like it does today — and the changed landscape may not represent progress.
Delayed Decisions, Stagnant Sales
In good news, although the anticipated sales boom has not occurred yet, that does not mean it never will happen.
"The demand is there," Laura Preslan, a research director at AMR Research, told CRM Buyer. "The question is whether buyers are going to wait a year or so."
Preslan credits sluggish economic indicators with fostering companies' wait-and-see attitude. The rest of the indecisiveness can be attributed to headline-grabbing market consolidation, including PeopleSoft's purchase of J.D. Edwards and the attempted hostile takeover of PeopleSoft by Oracle, coupled with Microsoft's entry into the CRM marketplace.
The Microsoft Machine Moves In
Indeed, Microsoft CRM is poised to win market share from other mid-market vendors, Preslan said.
"One way Microsoft has an advantage in the middle market is with its unquestionable vendor viability," she noted. "This is a vendor that will definitely be around in five years. These days, that's a huge play."
Microsoft CRM also integrates seamlessly with other Microsoft applications, including Office, Microsoft Business Solutions Financials, Microsoft Great Plains and soon Navision.
"Microsoft just has a killer story today," Preslan said. "Many other CRM solutions do not offer this level of integration with the desktop."
What is more, the price is right for the mid-market, at between US$395 and $1,295 per user, depending on which modules are purchased.
All Form and No Function?
However, Microsoft CRM's critics decry the product's limited functionality, noting that the 1.0 release lacks a significant number of features that are commonly available in other mid-market solutions.
"Microsoft is really a mid-market wannabe," Ben Kiker, senior vice president and chief marketing officer at rival Onyx Software, told CRM Buyer. "Their CRM software is really only appropriate for small businesses because it is lacking a lot of basic, core CRM functionality."
Perhaps more importantly, Kiker said, Microsoft's software is sold through value-added resellers that likely have not dealt with the complexities of CRM before. He pointed out that Microsoft's own embedded systems team bought Onyx CRM products for internal use this year.
In the near term, however, Microsoft is expected to add to its CRM software's functionality.
"They have $40 billion in cash, so over time they will build that out," Kiker said. "But they are clearly lacking today."
Going Vertical
In the meantime, Preslan stressed, it is vital for other mid-market players — including Onyx — to shore up their value propositions and customer lists.
"The entire mid-market is at risk," she said. "They have the next 18 months to find new customers and keep existing ones." That warning applies not only to small companies, but also to major players in the mid-market, such as Pivotal, SalesLogix and Onyx, though Preslan noted that major players may find continued success in the vertical industries for which they have developed specific solutions. Specifically, she cited Onyx' work in the financial-services and public-sector markets.
However, Onyx warns against dire predictions, citing premature doom-and-gloom forecasts in 2002 for the entire CRM market.
"A year ago, people were wondering if CRM [was] dead," Kiker said. "I reminded folks that as long as companies have a need to acquire new customers or keep the customers they have today, there will always be a need for what we sell."
Delayed But Not Denied
Indeed, despite the slow pace of sales so far this year, CRM mid-market players predict a brisk uptick in coming months. Database marketing service firm BeNOW, which specializes in CRM for catalogs and retail, is one of those that remains bullish on the market.
"We see an explosion of needs in catalog and retail," Brad Neuenhaus, CEO of BeNOW, told CRM Buyer. "Those markets are being driven by replacement of old technology with next-generation CRM tech. We've never had better sales success than we have in the last two years."
Neuenhaus also predicts growth for CRM in the travel and entertainment sectors.
"For the last several years, companies have been building out touch points," he said. "Now they are investing money in bringing all of this information together and making it work for them."
Powered by Small Business
Even with Microsoft CRM priced in the hundreds rather than the thousands of dollars, it still costs more than many small businesses can afford to pay. That is why companies with less than 100 employees have become a target market for companies like iCode.
iCode sells a suite called Everest, which is mini-ERP software that includes fully integrated e-mail, e-commerce, accounting and basic CRM capabilities for less than $1,500 per user.
In its pursuit of the middle market, the company suddenly has found itself among a crowded field of competitors, but its low price makes it a preferred solution, according to Steven Toole, the company's vice president of marketing.
"Those bigger players have all been mandated to go find the growth for this year, but enterprise budgets are flat," Toole told CRM Buyer. "Ninety-nine percent of businesses are small to medium-sized. Up until now, they've been overlooked because it's much easier to sell a multimillion-dollar deal to Wal-Mart or Bank of America than hundreds or thousands of deals to smaller companies."