Sony introduced its QX10 and QX100 lens-style cameras on Wednesday. The devices, which look like very thin point-and-shoot cameras, can connect to a smartphone wirelessly and use the phone's display as a real-time viewfinder.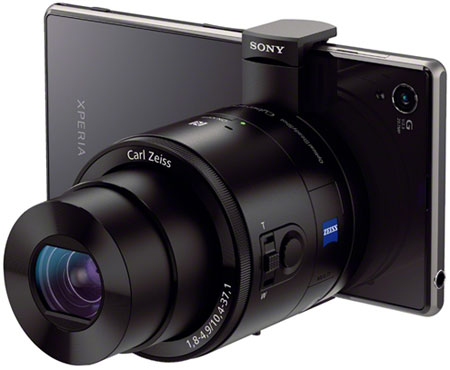 Sony Cyber-shot QX100 Premium Lens-Style Camera
The QX units run Sony's PlayMemories Mobile app, which allows an image shooter to use the phone's display to perform tasks like releasing the unit's shutter, starting or stopping video recording, and adjusting photo settings — shooting mode, zoom, auto focus area and such. If a phone supports NFC, the app can be activated with a touch of phone and QX.
Photos taken with the system are stored on both the camera and phone, where they can be shared with followers on social networks.
A smartphone can be attached to the back of the QX unit or operate it from a distance. The units can also be operated as standalone cameras. Both offerings — the QX10 (US$250) and QX100 ($500) — have a shutter release, memory card and battery.
Redefines Camera-Phone Nexus
The QX100 has a 1-inch 20.2 megapixel Exmor RCMOS sensor — the same one that's in Sony's critically acclaimed Cyber-shot RX100 II camera, which is known for its exceptionally detailed, ultra-low-noise images in all types of lighting conditions.
Along with the Exmor sensor, the unit has a Carl Zeiss Vario-Sonnar T lens with 3.6x optical zoom and a dedicated ring for making manual focus and zoom adjustments.
Shooting modes are also supported in the unit. They include Program Auto, Aperture Priority, Intelligent Auto and Superior Auto, which automatically recognizes 33 different shooting conditions and adjusts camera settings to suit.
The QX10 has an 18.2MP Exmor RCMOS sensor and a Sony G Lens with a 10x optical zoom. It also supports image stabilization and shooting modes — Program Auto, Intelligent Auto and Superior Auto.
"We feel that these new products represent not only an evolution for the digital camera business, but a revolution in terms of redefining how cameras and smartphones can cooperatively flourish in today's market," Patrick Huang, director of Sony's Cyber-shot business, said in a statement.
Sony did not respond to our request for further details.
Mining Niche
In a sense, Sony is trying to resell smartphone shooters on the merits of quality digital photography.
"It's trying to make the flexibility and quality that we see in standalone cameras relevant to smartphones owners," Ross Rubin, principal analyst with Reticle Research, told TechNewsWorld.
"The idea here is to take some of the optics and zoom capabilities of Sony's high-end point-and-shoot cameras and give those to smartphones that consumers already have," he added.
With the QX series, Sony is trying to keep pace with the rapid development of smartphone photography — but that may be a race run on a treadmill.
"We're seeing such rapid improvement on the smartphone imaging front, it's questionable whether these add-ons will provide a sustainable advantage for more than one or two generations of smartphones," said Rubin.
The QX series could also be Sony looking for an underserved market in a very competitive environment.
"We have a saturated smartphone market, and cameras have lost a lot of their relevance because of the smartphone, so you start looking for that niche new consumer that's been ignored," Michael Morgan, a mobile devices analyst with ABI Research, told TechNewsWorld.
That consumer is one "who doesn't want to buy a camera — for whatever reason — but does want to take much better pictures than they can with their current smartphone," he added.
Wacky Success
While the QX series will no doubt attract a number of early adopters, there's another emerging group that might be drawn to the gadgets. "There is a growing contingent of folks who take mobile photo sharing very seriousy,"Stan Horaczek,online editor for Popular Photography, told TechNewsWorld.
"If you have a ton of Instagram followers," he continued, "I can see this having a lot of appeal as it becomes harder and harder to stand out in a crowded pool of users."
Sony's pricing and positioning of the new products may also win it some market share.
"That 10x optical zoom model for $250 will likely draw some eyeballs away from standalone cameras," Horaczek said.
"In essence, they've made the camera a smartphone accessory, which I think is very smart" he added. "They've seen the effect smartphones have had on compact camera sales, so they're trying to adapt."
Since convenience has played a large role in the rise of smartphone photography, persuading mobile cybersnappers to lug around another device could be a hard sell, but Sony may just be the company to do it.
"Sony has been a real innovator in photography," David D. Busch, creative director for the David Busch Photography Guides, told TechNewsworld. "They've come up with these wacky ideas that have really taken off. So Sony is exactly the kind of company that can pull this off."