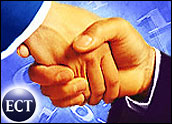 Siebel Systems shipped its latest CRM module, Consumer Goods 7.7, this week, rolling out yet another in a long list of 23 vertical industry products that the company promised to release this year. The new software is designed to give Siebel's corporate customers better control over their consumer and trade promotions by allowing them to target specific areas and demographics.
According to Siebel, the new offering helps manufacturers manage relationships across their entire demand chain. Marketing, sales and customer service are integrated, allowing companies to improve brand management, increase trade marketing return on investment (ROI), decrease customer-service costs and strengthen consumer loyalty and demand.
Like the rest of the company's vertical CRM product line, Siebel is touting Consumer Goods 7.7 as offering better business processes and analytics, easier integration and lower total cost of ownership (TCO).
Improves Promotion Simulation
Besides sharing the primary benefits of the company's other vertical applications, one of the strongest features of the new app is its easy-to-use and streamlined trade promotion, said Dwight Moore, group director of consumer goods at Siebel.
"This release links trade and consumer marketing, and this is the 'golden nugget' many companies are looking for," Moore told CRM Buyer. "Trade promotional spending can be 15 to 20 percent of net sales, so shaving even small percentages off that amount quickly pays for a system."
For her part, Yankee Group program manager Sheryl Kingstone told CRM Buyer that improving trade promotion effectiveness is important because, although companies spend large amounts of money, they still have a difficult time understanding, tracking and coordinating joint promotions. "Companies want to hone in on their promotional ROI to know that their money is well spent," she said.
Collaborating Saves Money
Siebel's Moore acknowledged that manufacturers and brand managers want to spend promotional money more efficiently and effectively. Even in a well-run company, marketing and sales tend to be silos, and there is little sharing of strategic information between consumer and trade efforts. The goal of the new software is to change that situation by enabling seamless sharing of plans and other material.
Brand management may be run by highly-paid MBAs; however, much of their work is tactical, Moore noted. For brand managers, the new software's collaborative brand management can help automate tactical portions of their job, such as obtaining legal and other approvals, sharing information with agencies, and collaborating across geographies.
The end result is that these managers will be able to focus more on brand strategy, he said.
Puts Data to Work
According to Moore, many manufacturers already have the data they need; they just need to put it to work. Consumer Goods 7.7 improves their ability to simulate promotional programs and compare which effort produces the best return on each dollar, he said. Using simulation, brand managers can see where money is best spent, according to the demographics of each outlet.
"When it comes to the retailers, they are drowning in their point-of-sale and demographic data," he explained. "They don't know what to do with all of it, because they are too busy managing hundreds of product categories from numerous manufacturers. Their question is, 'What do I promote and how?' They look to the manufacture for advice. Now there's a way for retail outlets and brand managers to share this data and work to improve the promotional sales effectiveness."
Effective Promoting
Moore went on to say that top-tier consumer-goods companies, many among the Fortune 50, beta-tested Siebel Consumer Goods 7.7 and now are investigating ways they might use the software for their own needs.
"It's about collaborating to improve promotion effectiveness and efficiency along the length of a very complex demand chain to increase revenue," added the Yankee Group's Kingstone.