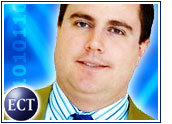 Siebel was one of the first CRM vendors to release industry-specific vertical applications. And, according to Lance Walter, director of Siebel's call center product marketing, those vertical capabilities are still one of the call center and service application line's strongest selling points.
For example, "In product demonstrations for companies in the pharmaceutical industry, we don't have to say, 'Picture if you will that this person is not buying a product but instead is signing up for a clinical trial,'" Walter told CRM Buyer Magazine. Because the clinical trial sign-up screens are built into the pharmaceutical release, he said, companies are assured that the software conforms to the business process requirements of their industry.
Powerful Web-Based Screens
Walter also pointed to Siebel's browser-based interface as an important competitive differentiator for its call center and service applications. Instead of interacting with "dumb, flat, HTML pages," he said, customer service representatives (CSRs) using Siebel software can access screen capabilities such as drop-down menus and pop-up calendars.
"Call center agents are power users," Walter said. "They need to be able to modify the look and feel of their applications, they need lots of interactivity, and they need applications that are robust."
Unified Agent Interface
Walter said that many of Siebel's customers have been able to greatly simply their CSRs' desktops through use of the software. "In a lot of environments we sell into," he said, "CSRs have seven or more applications running." Jumping from one software package for billing inquiries to another for orders and yet another to check the promotional offers available to a particular customer lets information drop between the cracks — and leaves plenty of room for customer service errors.
To address these issues, Walter said that Siebel built many of those functions into its call center and service apps. In addition, its integration features allow incorporation of data from a wide range of outside software while maintaining the unified user interface that supports agent efficiency and accuracy.
Commitment to Open Standards
Like many CRM vendors, Siebel is stressing its integration capabilities to IT executives weary of stand-alone software and data silos. Walter said that some customers have integrated Siebel software into environments with 20 other enterprise packages.
"We have a long-standing commitment to open standards," he explained. "In the past, this has meant COM, CORBA, XML, HTTP, IBM MQ Series, et cetera. In Siebel 7.5, we expanded this with support for Web Services and the Java Connector Architecture." He added that Siebel's Universal Application Network architecture is expanding its integration capabilities from the data level to the process level.
Value-Based Routing
Siebel call center and service software ships with value-based routing capabilities, said Walter — a feature that other CRM software vendors add during customization. This allows contact center supervisors to direct inquiries to various agents based on skill level or area of expertise.
In addition, the routing functions can identify customers by value tier, pulling a high-value customer out of a phone queue, for instance. Contact management functions keep all customer communications together. If a frequent customer sends an e-mail question, for example, and then calls the contact center, the CSR will have all information from the customer's contact history available during the call.
Installed Base Expertise
There are many benefits to holding a significant chunk of the CRM software market share, explained Walter. Perhaps the most important is the vertical industry expertise Siebel has gained along the way with its 3,500-plus customers. Customers provide significant feedback to Siebel about its call center and service applications, and that feedback gets fed back into the software development cycle in the form of business processes and best practices.
"We've expanded from seven vertical applications out to 22," he noted. "If you're a new prospect in one of those industries, you can gain a lot of value learning from those companies' experiences."