Shoutlet, which last year launched an app designed to help companies manage their social media operations, has expanded its feature set to include CRM functionality.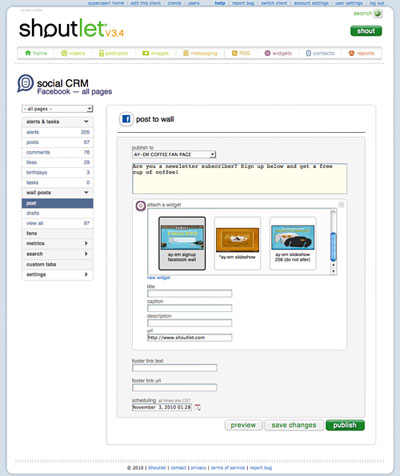 It is a natural extension of Shoutlet's original feature set, explained President and COO Aaron Everson.
"Shoutlet lets a company set up and manage all of its social media communication in one place," he told CRM Buyer. "Once that is in place, a company needs features to communicate with those customers as well as see the metrics behind their fans' growth."
The new functionality, among other things, let customers monitor and manage multiple accounts and brands. The restaurant chain Houlihan's, for example, uses Shoutlet's new features to manage 16 different Facebook pages, Everson said.
Other features makes it easy for companies to post amd then monitor the response to content — from video to simple messaging, as well as a variety of widgets such as sign-up forms.
For monitoring purposes, the application provides several categories — plus the ability to create custom ones — to classify fans.
"We have metrics that show who the fans are and how active they are," noted Everson. "From that, companies can understand who the biggest influencers are."
Collaborating on Complaints, Issues
The collaboration piece is the most compelling, given how many users take to social media to complain about a service or product, or to ask for help. There are several collaboration tools designed with this particular issue in mind, including one that allows a prospect or commenter to be tagged and then sent to someone within the organization to handle.
"Let's say a company has several customers talking about or complaining about a certain issue," Everson said. "Shoutlet can tag all of those commenters and send them to someone for follow-up or assistance."
A company may also use the service to respond to a complaint by offering a coupon or discount along with an apology, he said.
The Beginnings
Shoutlet launched as a design tool for marketers, with a set of drop-and-drag tools to create corporate pages, podcasts and widgets for Facebook and other social media. At the time, it was cutting-edge, but since then, social media use by companies has rapidly advanced.
"We are developing our functionality with an eye to how companies will be using social media," Everson said. "This is a trend that is developing so quickly that we anticipate adding more as the need arises."
The Road Ahead
Shoutlet plans to continue to build out its functionality in particular, said Everson, by adding tools that can reach out to mass influencers. "This is an area that a lot of social media companies are focusing on — identifying and then cultivating those handfuls of customers that have more than a usual amount of influence among their followers."
Mobile is another key area the company plans to develop, he continued. "We have gotten a lot of requests for features that can communicate with customers via mobile, as well as for the ability to use Shoutlet on a mobile device."