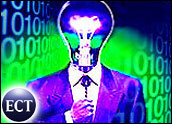 Media company EW Scripps announced a plan to split into two separate public companies: one for national media efforts and the other for local and community brands.
The proposed split, expected to be completed early next year, is designed allow the two separated companies to bring "sharpened strategic focus" said Scripps President and CEO Kenneth W. Lowe. The goal is to allow the respective company executives to grow with "a clear vision on how best to build" on each entity's specific strengths, he said.
The board of directors needs to give final approval of the plan and the Internal Revenue Service must rule in favor of the tax-free nature of the transaction. If the separation takes place, corporate headquarters for both companies would be in Cincinnati.
The Great Divide
The plan calls for the creation of one company called "Scripps Networks Interactive," while the other will retain the name "EW Scripps."
Scripps Networks Interactive, with 2,100 employees and annual combined revenue of about US$1.4 billion, would be made up of "national lifestyle media brands and associated enterprises" including HGTV, Food Network, DIY Network, the Fine Living Television Network and Great American Country and their related online operations.
Additionally, Scripps Networks Interactive will include the online comparison shopping sites Shopzilla and uSwitch.
EW Scripps, with 7,100 people and combined annual revenues of about $1.1 billion, would encompass Scripps' 17 daily and community newspapers; 10 TV stations, the United Media character licensing and feature syndication businesses and Scripps Media Center in Washington, which includes the Scripps Howard News Service.
To Each His Own
The "anchors" of Scripps Networks Interactive will be its HGTV and Food Network cable TV offerings, Scripps said. Those channels are available to 95 million people in the United States "and have proven themselves many times over to be valuable and efficient platforms for advertisers," it added.
Scripps also said its "newer brands" are each now available to about 50 million U.S. households.
Meanwhile, the company called its online properties, such as HGTV.com, the "undisputed leaders in the lifestyle categories" that it made popular with the cable TV shows.
EW Scripps will be based on brands that reflect the company's "130-year tradition of journalistic excellence, community service and local media innovation," said Scripps. The portfolio of print, online and local broadcast entities serve some fast-growing areas, said the company, citing Florida's West Palm Beach, Treasure Coast, Tampa and Naples and California's Ventura County.
Included in the EW Scripps roster will be the Pulitzer-prize winning Rocky Mountain News in Denver.
Scripps newspapers reach more than a million people daily and its network-affiliated broadcast TV stations are viewable in markets representing 10 percent of the nation's population.
Old Versus New
The Scripps move appears to be part of a trend, according to Bob Thompson, director of the Center for the Study of Popular Television at the S.I. Newhouse School of Public Communications at Syracuse University.
"We're starting to hear more and more about these kinds of splits," he told the E-Commerce Times. "Sometimes they split according to TV and newspaper. This seems to be splitting according to new technology versus old technology. The cable and interactive gets put into the new technology company and the old fashioned broadcast and newspapers get put into the old technology company."
The announcement reveals big change taking place in the media world, Thompson said. "I think this whole split into new media versus old media says a lot. In some ways it's the very fact that these have become distinguishable marks the process we are in. We are evolving from one thing to another thing."
Get Off My Back
The divide seems to reveal that Scripps' local television stations and newspapers are having difficulty, JupiterResearch analyst Barry Parr said.
"I would bet that their local businesses are making money but obviously their prospects are not as good," Parr told the E-Commerce Times. "This move certainly isolates one business from the other. You don't want to be in a situation where one business is subsidizing the other.
Parr predicted a "very tough 10 years for the newspaper business is coming up" and he also said it's "not a great time for the local broadcast affiliates."
In fact, newspapers have been declining for three or four decades due to the growth of television, particularly cable TV, noted Parr. However, he said, small community newspapers appear to be keeping their heads above water for the time being.
"That remains the one place where all these other fancy new delivery systems and all this other wealth of options, do not work," said Parr.