SAP has updated its cloud-based CRM portfolio with the rollout last week of three industry-specific applications. These applications, designed for the insurance, utilities and retail sectors, are the first cloud-based verticals for CRM, aside from a broader-based application with functionality tailored for consumer goods.
In addition, SAP has introduced a cloud-based marketing performance dashboard to join the dashboards it previously released for the sales and service space.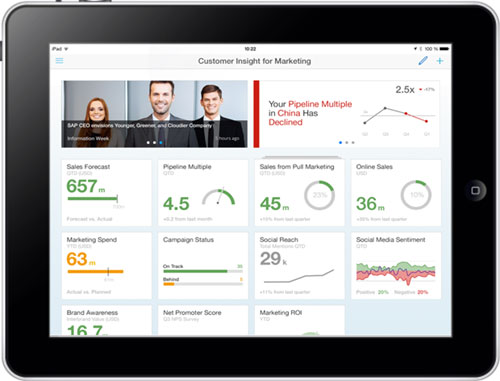 The new dashboard displays key marketing and sales performance indicators in real time, based on operational data. It delivers notifications about any changes in these KPIs, either positive or negative.
An In-Memory Dashboard
Each of the dashboards — service, sales and now marketing — varies a bit in its KPIs, depending on the audience, but one thing all have in common is their focus on an executive view of the company, said Johann Wrede, SAP's customer engagement solutions and global senior director of solution marketing.
The KPIs reveal campaign metrics and social sentiments about brands, he told CRM Buyer. There are more than 100 reports across sales and marketing, all of which can be configured as tiles. Also, customers can create variations of these reports or build new ones and publish them to the dashboard.
Alerts are sent out whenever a change is registered in one of these metrics, alleviating the need for the user to constantly be checking the dashboard to make sure all is OK.
"Let's say the pipeline multiple changes from 3.8 times to 4.3 times. The dashboard will send the user an alert about that, Wrede said.
Then, the user can drill down and see what has happened among the individual opportunities that fell out of the pipeline. The user can drill down even further — all the way back to the original campaign — to search for connections that could explain the shift.
"What we are doing is tracking the KPIs at the highest level to a causality level, and it is done in real time. That is one of the benefits of running in-memory and using real-time analytics," Wrede said.
Available for any device, the dashboard is pre-integrated with the SAP CRM and SAP ERP applications, the SAP customer engagement intelligence solution and SAP's Jam social software platform.
It integrates with products from SAP partners including Marketo, NetBase, Avention and Fan Appz, pulling in data that can be used in the KPIs.
Industry-Specific Verticals in the Cloud
Back in the days when on-premises enterprise software was the main — if not only — choice for companies, SAP was one of the top go-to providers of software tailored to a specific industry.
It is now trying to carve out a similar niche for itself with its cloud-based retail, utilities and insurance offerings.
In earlier iterations, SAP introduced cloud-based versions of its CRM software that included functionality for the consumer product industries, Wrede said, such as site surveys and tools to manage relationships with retailers.
"While there was functionality geared toward that industry, we didn't call it a specific industry solution," he said, "because it also had a broader applicability."
These three new verticals, though, are specifically geared to their industries' workflows and processes.
The insurance vertical, for example, is based on "lead-to-policy" processes that property and casualty insurers typically use. It includes features aimed at helping insurers better engage with customers throughout the buying process.
The utilities vertical is geared toward sales personnel who deal with commercial and industrial customers. It comes with features tailored for those particular relationships and processes to close deals.
Ditto the retail solution, which is designed to help store the offers and product recommendations employees made to customers, as well as quickly locate available inventory across stores.
None of these verticals is as robust as SAP's on-premises versions, although they are complementary, Wrede pointed out.
However, as SAP continues to roll out new cloud-based features and iterations of its CRM product, he said, it's likely they will be updated and expanded to include other verticals.