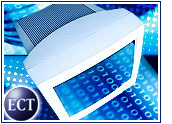 SAP has launched the latest version of its mySAP CRM application at the Sapphire conference in Lisbon, Portugal. Aside from feature enhancements, many of the changes are focused on making the application more user-friendly.
Indeed, the most significant development in mySAP CRM 3.1 is the incorporation of SAP's portal technology. According to John Grozier, group director of CRM product marketing, SAP took this route in order to accommodate the different skill levels of typical users.
"We wanted to address the needs of all the users that touch a CRM application in the course of a day, from the occasional customer or partner to the frequent user like a sales rep or contact service rep," Grozier told CRM Buyer Magazine.
The end result is that SAP's portal technology, which previously was marketed separately, has been embedded into mySAP CRM 3.1. A typical use of this extended functionality would be a contact center agent accessing customer data from multiple sources, such as financial and logistical information.
Better Usability and Integration
Other changes in this release are mostly cosmetic, Steve Bonadio, senior program director at Meta Group, told CRM Buyer — not that this is insignificant. "At the end of the day, usability is the key to adoption. SAP has spent the last year redesigning and rebuilding many of its user interfaces, which was one of its weaknesses in the past."
Bonadio also noted that mySAP CRM 3.1 is more tightly integrated and offers better links into the back-office system – an appealing factor for SAP's installed base.
According to SAP, other new or enhanced features include: workforce management capabilities for customer interaction centers, with new tools for short-term staffing forecasts, skill-based assignments and reporting in multichannel environments; a partner portal that allows channel partners to place orders via a Web site while maintaining their own catalogs and pricing; enhanced analytics; a new mobile engine that allows sales and service representatives to initiate orders and access accounts; and incentive and commissions management functionality.
The release also features a personalization engine, as well as guided and self-service applications, Grozier noted.
Portal Trends
Increasingly, vendors are embedding their portal technology directly into CRM and related applications. PeopleSoft, for example, unveiled a new set of technologies late last month called AppConnect, which bundles its portal, integration broker and data warehouse into a cohesive whole.
While that release is not a significant new product, according to an AMR Research briefing, "it does give a glimpse into the future of PeopleSoft's infrastructure strategy."