Samsung announced at last week's International CES a new line of smart TVs powered by the open source Tizen operating system. Beginning with this year's models, all of Samsung's smart TVs will run on Tizen.
Samsung has taken the lead in developing Tizen, which is a derivative of Linux, and this is its first deployment as a smart TV platform. Tizen supports the Web standard for TV app development.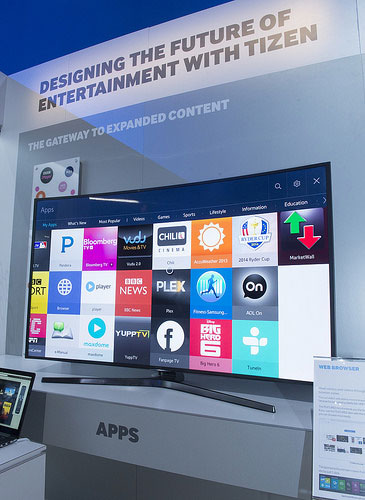 Samsung's New 'Super UHD' Tizen TVs
Samsung's new smart TVs will allow consumers intuitive access and a more integrated entertainment experience with more content choices, according to the company.
"We have been waiting for something to do with Tizen for quite some time," said Tuong Huy Nguyen, principal research analyst for Gartner.
"From a market viewpoint, consumers have to wonder how this is going to work with everything else they have. The consumer does not care about another operating system for their TVs or other devices," he told LinuxInsider.
Waiting and Watching
"No other Tizen-powered products exist yet that I know of," said Nguyen. "We are still waiting for Samsung to release its first Tizen-powered phone."
Meanwhile, a conglomerate of developers working on Tizen are heralding Samsung's announcement as a major market release.
The Tizen Association looks forward to seeing all of the software and hardware applications that are rolled out this year, according to Brian Warner, director of client services and operations at theLinux Foundation, and manager of the Tizen project.
"Tizen's expansion into the smart TV segment highlights the operating system's applicability across the connected device spectrum," Warner told LinuxInsider. "Whether it is on a large, visually rich screen like a TV or in a device with power efficiency priorities like a smartwatch, Tizen delivers a flexible, fast and efficient platform meeting a variety of needs for consumers, developers and carriers."
Controlling Factor
The Tizen platform allows Samsung's smart TVs to become part of a much larger content ecosystem. This allows easy collaboration with a number of partners for better content flexibility and access, Samsung said.
Tizen's compatibility with other devices can establish a Samsung smart TV as the control center of any smart home, setting the standard for future smart TVs and redefining the entertainment experience, according to the company.
"Tizen makes TV app development much easier, so that users can enjoy a wider range of rich and diverse content, Samsung spokesperson Danielle Meister Cohen told LinuxInsider."
Tizen TV Features
The new Tizen user interface for Samsung's Smart Hub is more responsive and simplified, said the company. It is condensed to just one screen. It displays the most recent content, and it offers tailored content recommendations for more entertainment options.
The Quick Connect feature automatically recognizes Samsung smartphones once paired via Bluetooth Low Energy technology. Consumers can share video content from their Samsung smartphones to their smart TVs with the press of a button.
Also, users can watch TV through their mobile devices without any apps or complicated presettings, Samsung pointed out. Consumers will be able to stream UHD movies and TV shows from providers such as Amazon, Comcast, DIRECTV, M-GO and Netflix.
Tizen Strategy Binding
There are two main reasons that a vendor develops a standalone OS. One is to make its products more competitive. The other is to tighten the strings tying it to customers, according to Charles King, Principal Analyst at Pund-IT.
"I expect that Samsung's efforts around Tizen reflect both those issues," he told LinuxInsider. "While the company could have simply embraced Android — as have many of its competitors — Samsung's position as a leading TV manufacturer means that it could benefit substantially from Tizen, especially as TVs become increasingly integrated with Internet-based services and features."
That said, it is a long way from launching a new OS to creating a viable ecosystem of developers and apps that keep customers coming back for more, King acknowledged.
"You would think that Microsoft and Amazon would have the heft to do just that — but both companies' app efforts pale when compared to Apple's iOS and Google Android," he said. "Samsung is not the only company to roll the dice at CES, but it has more riding on the success of Tizen than any other vendor."