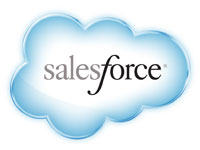 Salesforce.com on Monday unveiled Salesforce1, as it kicked off its Dreamforce conference in San Francisco. The Salesforce1 platform allows software vendors, developers and customers to integrate third-party services using application programming interfaces and sensors.
Salesforce1 reportedly will be equipped with a far larger number of APIs than previous versions of Salesforce software. Some of them are designed to process information sent by sensor. For example, a service cloud could be configured to flag problems in complex machines.
Salesforce1 also has new mobile functionality that allows customers to run any application from Salesforce's Application Exchange, as well as custom apps, on any type of device or screen size. The end result is a mobile device that can log calls, respond to leads, work opportunities, check dashboards, and collaborate across teams, according to Salesforce.
The current Salesforce functionality, including its Chatter app, is still part of the mix that will run within the Salesforce1 platform.
Sky's the Limit
Salesforce1 will provide developers with a wide array of new possibilities, Tom Brennan, VP of marketing at FinancialForce.com, told the E-Commerce Times.
FinancialForce.com is a partner in the Salesforce1 platform launch. It is using Salesforce1 to build mobile-ready apps that will be sold through the AppExchange marketplace.
"It is a great platform in any number of ways from a technology point of view," Brennan said. It will allow developers "to build an app in one place that will support many different types of devices. Today, you have to build an app for each phone."
Certain nuances in the platform will lead to more opportunities for developers, he continued. One is that users and developers can work and communicate through the social media screen to a degree they haven't been able to before.
"You can make changes, create records, etc., from the context of the conversation you are having at that moment," Brennan pointed out.
Consider this scenario: A couple of employees from different company divisions discuss how to upsell to an existing client. Then someone realizes that one of the customer's invoices is outstanding and before the customer is contacted, the sales reps want to find out why.
Earlier iterations of Salesforce.com would require them to go through the accounts receivables system, call up the customer data, and send or otherwise highlight the relevant portion to the people on the chat, probably via email.
With Salesforce1, that information can be gathered and highlighted immediately in real time for the group.
"The employees are able to view the relevant back office information that relates to that customer all through the CRM user customer facing interface," said Brennan.
That example, "just scratches the surface of what can be done with Salesforce1," he said.
Developer-Friendly Times 10
Salesforce1 is making a good first impression on the developer community.
"Salesforce has a long legacy of being developer-friendly," said Narinder Singh, president of community and technology at TopCoder and cofounder of Appirio.
"They were one of the first to allow free access to their technology," he told the E-Commerce Times.
Both the immediate uses for Salesforce1 and the company's longer-term vision of being all things CRM when the Internet of Things takes off impressed Godard Abel, CEO of G2Crowd.com, who was in attendance at the product launch.
"Salesforce1 will help independent software developers develop and deliver mobile apps that integrate seamlessly with Salesforce Clouds as well as ISV clouds," Abel told the E-Commerce Times. "It is going to take mobile development in the Salesforce and AppExchange to the next level by providing mobile SDKs and other tools to deliver better mobile apps."
Ultimately these may be extended to other Internet devices and become ubiquitous, Abel suggested, "but it seems the initial use cases will be primarily for smartphones."