Schlepping Files Got You Down? Enter the DragonDrop
MacNewsWorld

DragonDrop, and by ShinyPlasticBag Apps, is available for US$4.99 from the Mac App Store.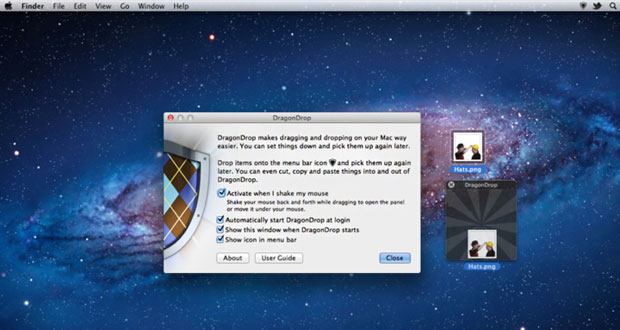 DragonDrop
I'm a highly visual guy, and while there are all sorts of ways to work with files on my Mac, I still love cluttering up my desktop with folders, links, documents and photos. I treat my desktop like a table surface, and I have elaborate stacks and sections of folders and files. I'm constantly using Mission Control -- the upper right is my hot corner, and the opposite, lower-left, reveals my desktop with all open applications and windows pushed to the edges.
Inevitably, this method of organization has its limitations. While it makes visual sense to me, it's not always the most physically efficient. I do an awful lot of dragging and dropping things around. Mac OS X has this handy spring-loaded folder feature, but sometimes I don't want to be holding a document or folder with a long, ongoing click-and-hold while I drill down into another folder waiting for folders to spring open. So I'll drag something to an open spot on my desktop, navigate to my destination, then drag the item directly to the destination.
As I use some apps in full-screen mode, as well as flick from desktop-to-desktop, I occasionally wonder if I might be better off rewiring my brain.
Enter DragonDrop
Luckily, I can put that off for a while longer. A new app has hit the Mac App Store, DragonDrop, and it lets you grab almost any object with your mouse via a click-and-hold action. If you give your mouse a little shake, a special floating window will magically appear beneath the object. Let go, and the item drops onto the floating window, freeing up your mouse to explore your world to find your destination. When you navigate to where you want to be, drag the object out of the floating window, drop it where you want it, and boom, DragonDrop disappears from sight.
When you need it again, grab something, shake, and drop it into the temporary holding spot.
The move is actually so cool and ingenious that for the first couple of days I found myself using DragonDrop even when I didn't really need to.
Alternately, you can drag an item and drop it on the DragonDrop icon in the menu bar at the top of your screen.
The Wild Back Story: A Good Idea Pays Off
Before I continue with the features, I should note an interesting turn of events. I'm a fan of the Mac App Store, and I'm loathe to buy any app that's not available there because I've had my fair share of irritating installation and licensing issues with applications in the past.
When I first downloaded the trial of DragonDrop, it wasn't available in the Mac App Store. In fact, Apple seemed to have rejected it with vigor, though I forget the details -- something about how it modified how users interact with the Mac OS function of dragging and dropping. In any event, I liked DragonDrop so much I broke my self-imposed rules and bought it via the developer's website. Imagine my surprise in finding it available on the Mac App Store. It's good to see Apple reverse its earlier decision and allowed it in.
All Sorts of Objects
DragonDrop lets you grab all sorts of items. Want to save an image on a website to your hard drive? You don't have to save it to your downloads folder and then move it -- you can click on it, hold, shake, and put it on the DragonDrop window before moving it to the spot you want it. Want to grab an email message? DragonDrop can handle it. Snag a Web page URL? No problem.
What's great about it is that you can use DragonDrop as an extra clipboard of sorts. Instead of copying something to the clipboard, then losing it while you copy something else, you can use the temporary placeholder nature of DragonDrop for some temporary storage.
Speaking of the clipboard, you can copy something to your clipboard, and instead of pasting it directly where you want it, you can paste DragonDrop by clicking on the DragonDrop icon in the top menu bar on Mac OS X. Select paste, and boom, there it is. If I select text, copy the text, then paste the text to DragonDrop, the app will try to create a file similar to the original source. So if you cut and paste from an RTF file, you'll drag an RTF file out of DragonDrop. Copy from a Web page and you'll drag a .webarchive file from DragonDrop.
Any Limitations?
Right now, the only key limitation that I've found is that it's not smart enough to help me relocate files on my Mac OS X desktop itself. For example, say I have a file on the left side of my desktop and I want to move it to the right side. In this situation DragonDrop just releases the file back to its original location. Technically, the file didn't move anywhere because it's still on the desktop ... and yet, I want the visual representation of where I want the file on my desktop to move.
Is this a big deal? It depends on how you work. For me, moving items around my desktop is relatively easy -- I grab the icon of what I want to move, flick to my "desktop" reveal hot corner, and move the file. The challenge -- and this may be why Apple was originally reluctant to approve DragonDrop -- is remembering one method for one thing and not something else. Still, all it takes is regular use and a few mistakes here and there to create a habit, and after that, your basal ganglia will do the work for you.
While I still very much prefer buying from the Mac App Store, you can buy directly from the developer and/or download a free trial that will give you 30 minutes of use to check it out during each session that you open DragonDrop. In addition, if you're having a hard time visualizing my explanations, in this case, the DragonDrop video is worth more than a 1,000 words.

---