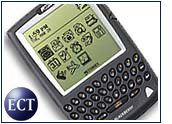 Research In Motion (Nasdaq: RIMM) gave up anearly morning gain sparked by news of an alliance with Lucent (NYSE: LU), and traded midmorningat US$28.88, down 62 cents.
Earlier in the day, the stock rose as high as $31.50.
The agreement will make Research In Motion's BlackBerry handheld e-maildevices compatible with new Lucent networks. Under the deal, Research In Motion's products and services will be used with Lucentwireless networks to create new offerings, the companies said.
"The Lucent alliance helps us both address operator and customer needs and expand the reach of RIM's unique end-to-end solution," said David Werezak, vice president ofmarketing.
Lucent customers, meanwhile, will gain faster access to high-speed mobileInternet services, said Jamie Kistler, director of strategic alliances forLucent's wireless networks business.
"Lucent and our customers regard RIM asa unique and innovative contributor to next-generation wireless solutions,"Kistler said.
Research In Motion, based in Waterloo, Ontario, recently announced its firstmajor European deal. The company will supply UK mobile telecommunicationsoperator BT Cellnet with BlackBerry Enterprise Edition handheld devices fordistribution in the UK.
The agreement includes a commitment for BT to order175,000 BlackBerrys with associated software and services, Research InMotion said.
In January, Research In Motion said it had teamed up withLotus development to develop new wireless applications. As part of theagreement, Research In Motion is expanding BlackBerry's capabilities toinclude support for Lotus' Lotus Notes and Domino e-business services.
In addition to BlackBerry, Research In Motion makes a line of wirelesshandheld devices, wireless PC card adapters, embedded radio modems andsoftware development products. The company, founded in 1984, has offices inCanada, the United States and the United Kingdom.