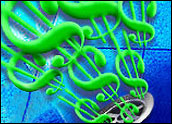 Yahoo is in the midst of a financial freefall, based on a Re/code report that claims the company's deal book shows a muddled and confusing financial picture that has made potential investors nervous about any effort to salvage the business.
Yahoo's internal presentation for investors paints a picture of a company moving entirely in the wrong direction, according to the Re/code report. Slides show that Yahoo's revenue, excluding traffic acquisition costs, is projected to drop 15 percent to US$3.5 billion in 2016, compared with $4.1 billion a year ago. Earnings before depreciation, taxes and amortization, are expected to fall 20 percent to $750 million.
The company is planning significant headcount reductions — with total jobs down to about 9,000 by the end of this year, compared with 12,500 in 2014 — yet no change in stock compensation, the report notes.
Yahoo also is losing significant fee income from its Asian assets, as $200 million in TIPLA is gone — never to return — following the Alibaba Group's initial public offering. Another $120 million will go away in 2017, when Yahoo Japan moves over to Google, according to Re/code.
TAC costs have exploded, rising from about $220 million in 2014 to an estimated $1 billion in 2016, the data reportedly shows. This is largely based on search deals Yahoo has inked with Mozilla, Oracle and other firms.
Yahoo last month announced plans to consolidate non-core content areas and focus on a few strong revenue and visitor drivers, as part of an overall plan to streamline operations at the company.
Confusing Numbers
Investors have found several slides in the deal book confusing, the report notes. The costs of some search staff apparently are listed under research, and regional unit figures are located in different categories.
More troublesome is that senior Yahoo executives, including Marissa Mayer and CFO Ken Goldman, have refused to answer a number of questions until buyers are approved for a second round of bids. Initial bids are due Monday, according to the report.
Mayer has been very bullish about a Yahoo voice search product called "Index," the Re/code report indicates, despite the potentially serious costs involved, and the fact that rival firms have their own personal assistant products already on the market in the form of Apple's Siri, Amazon's Alexa, Microsoft's Cortana and Google Now.
Yahoo declined to comment on the report. "As we said when we announced the formation of the Strategic Review Committee, we don't intend to update until an agreement has been reached or the committee makes the decision to no longer pursue a transaction," spokesperson Rebecca Neufeld told the E-Commerce Times.
Legacy Gone?
As a legacy Internet search and content provider, Yahoo has developed a recognized brand name and does generate revenue, observed Rob Enderle, principal analyst at the Enderle Group.
The firm also has managed to keep a large number of loyal customers for several of its Web brands, he told the E-Commerce Times, but the flip side of the company's recent decision making is going to require a lot of heavy lifting.
"They are a company that has had horrid executive leadership for an extended period, and that means the firm will require a massive amount of financial and management help to pull out," Enderle said. "Finding a buyer, as a result, won't be easy."
Yahoo is more dinosaur than sleeping giant, said technology analyst Jeff Kagan, and its inability to innovate will make investors wary of placing bets on any turnaround strategy.
"Yahoo was once an industry innovator and leader, but that was a long time ago," he told the E-Commerce Times. "They have been trying to restart their growth engines over the last 10 to 20 years."
Every growth wave rises and falls, but the smart companies create the next growth wave before the first one dies down, said Kagan, likening Yahoo to companies like Nokia, BlackBerry and Motorola, which failed to create the next big growth wave before the previous cycle ended.
"Based on what we see today," he said, "while it's sad, I think Yahoo may never recapture their glory days. There's no youthful excitement or energy."