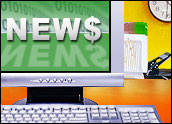 Fewer than one in five U.S. consumers are willing to pay for access to their favorite news site, according to a report from the Pew Research Center's Project for Excellence in Journalism.
Only about one-third of Americans even have a single favorite site, the 2010 State of the News Media report found, though the majority don't roam far: 57 percent use between two and five news Web sites, while only 12 percent use more than six such sites.
A full 79 percent of online news consumers, meanwhile, rarely if ever have clicked on an online ad, the report suggests, even as the three elements of old media — newspapers, radio and magazines — are projected to take in 41 percent less in ad revenues in 2013 than they did in 2006.
Taken together, the report's findings suggest there's no quick end in sight to the media's ongoing woes.
'Significantly Harder'
"Last year was significantly harder on the news industry even than 2008, and the report predicts still more cutbacks in 2010, even with an improving economy," said Tom Rosenstiel, director of the Project for Excellence in Journalism. "And while there is more discussion of alternative ways of financing the news, there is not yet much concrete progress."
The new report follows a related publication earlier this month from the Pew Research Center's Internet & American Life Project and the Project for Excellence in Journalism.
Only Cable News Riding High
Newspapers, including those online, saw ad revenue fall 26 percent during the course of 2009, bringing the total loss over the past three years to 43 percent, the study reported.
Local television ad revenue fell 22 percent in 2009 — triple the decline that occurred the year before — while radio was down 22 percent.
Magazine ad revenue, meanwhile, dropped 17 percent, and network TV was down 8 percent. Online ad revenue overall fell about 5 percent.
Only cable news, among the commercial news sectors, did not suffer declining revenue last year, the report found.
'Sand in an Hourglass'
"For newspapers, which still provide the largest share of reportorial journalism in the United States, the metaphor that comes to mind is sand in an hourglass," the report's authors wrote.
"The shrinking money left in print, which still provides 90 percent of the industry's funds, is the amount of time left to invent new revenue models online," they added. "The industry must find a new model before that money runs out."
As more and more news organizations become niche operations, however, it's far from clear what that model will be.
'It's a Commodity'
That most consumers are unwilling to pay for news content is not surprising, Sreenath Sreenivasan, dean of student affairs and digital media professor with The Journalism School at Columbia University, told the E-Commerce Times.
"People have become attuned to not paying for certain kinds of content," Sreenivasan explained. "They're looking for premium, exclusive content that makes their lives better. The goal for media is to find the spots where what we do matters to them."
Indeed, "simply putting paywalls up in front of a site people are already getting for free is a loser," agreed Paul Gillin, blogger, podcaster and author of The New Influencers. "No one has been able to make that work except in specialized markets like financial."
As far as general news, "it's a commodity," Gillin told the E-Commerce Times. "There's no evidence that paywalls work."
'A Shift Is "Occurring'
Whether that remains the case, of course, is yet to be seen.
"I think that a shift is occurring, but slowly," said Jeffrey Dvorkin, who holds the Rogers Communication Distinguished Visiting Professor Chair in Journalism at Ryerson University and serves as executive director of the Organization of News Ombudsmen.
The recession "hasn't helped the notion of a free-spending public," Dvorkin told the E-Commerce Times.
Nevertheless, "there are some early signs that the public may be mulling over the options and may be ready to open up the purse strings under the right circumstances," he added.
"My worry is that the news offerings will have to be so specific to a demographic or so imbued with soft features and entertainment values as to push out the news offerings," noted Dvorkin.
Even so, "in public radio, for example, some stations found that their listeners were willing to pay in a time of heightened financial anxiety," he pointed out. "So I am optimistic that solid and reliable information will always find a market and a public willing to pay for it."
'BAW Time'
Looking ahead, one of media organizations' biggest challenges will be claiming a slice of consumers' "BAW," or "bored at work" time, Columbia's Sreenivasan asserted.
"They don't need to be the first site, or even the second — they just want to be part of the mix," he explained.
"It used to be that publicists could count on captive readers to deliver a reliable audience," added blogger Gillin. "Now, publications are increasingly relying on the free will of readers to share information."
If stories are not easily sharable, immediate and relevant, he added, "it's increasingly difficult to get visibility."
'Become More Outrageous'
That, in turn, could have some negative consequences, Gillin warned.
"If you look at what Fox is doing, or even CNN, much TV news is simply people shouting at each other," he observed. "That has become the face of evening news. It's unfortunate, in my opinion, but it seems to be working and growing."
From that, concluded Gillin, there's a potentially distasteful lesson to be learned: "I don't like to say it, but news organizations may have to become more outrageous to survive."
'Informational Comfort Food'
We are in a period of "information deflation" in which there's "too much content chasing too few eyeballs," Ryerson's Dvorkin agreed. "The result is that people tend to stay with familiarity."
For news providers, "the economic urge is to give the people what they want, rather than a combination of what they want and what they need," he added. "So that is why we are seeing a lot of 'informational comfort food' on the menu.
"People are shying away from the unfamiliar, the exotic and the foreign," Dvorkin concluded. In other words, it's like a "Kraft Dinner-ization of information."
Of course, like the popular meal, he said, it's "not a healthy option without some greens… "