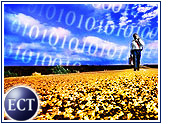 The latest dot-com job cut numbers released Tuesday by Challenger, Gray, & Christmas (CGC) paint a rather mixed picture of the Internet economy.
On the one hand, dot-com layoffs in August fell 44 percent from July, to reach a 12-month low of 4,899. On the other, the number of dot-com firms that permanently closed up shop leaped 133 percent in August, with 21 companies calling it quits.
CGC chief executive officer John A. Challenger told the E-Commerce Times that although the end of the dot-com shakeout may be at hand, it will be a slow and measured process.
"I think it has much to do with the fact there's simply fewer companies left," Challenger said. "Some of the ones who were just holding on are closing. The number of companies closing as a percentage of the total is likely to remain relatively high in this last chapter of the shakeout we're in."
Playing Catch-Up
So far this year, 248 dot-com firms have closed. Since January, dot-coms have announced 87,795 job cuts, more than double the number of cuts announced in all of 2000 (41,515).
Challenger said the shakeout has begun to catch up with some of the Net's biggest e-commerce players, such as AOL Time Warner (NYSE: AOL), which laid off 1,200 this month.
"[The larger companies] may have been able to weather the storm because of their size and position," said Challenger. "We may see more cuts in these larger companies."
Building Blocks Crumbling
Portal companies, which cut 1,700 jobs, had the highest number of layoffs last month.
As is the case with some of e-commerce's biggest retailers, the leeway period for Net infrastructure companies appears to have run out as well. Of the 21 firms that closed in August, 11 were Internet technology firms that provide such tools as servers, networking devices, and telecommunications services and equipment.
Companies in the infrastructure sector slashed more than 1,100 jobs, according to CGC.
"They were better able to withstand the shakeout because they had a niche, but now they're just part of the slowdown," Challenger said. "There's too much capacity (in the segment). It has to get back to equilibrium where there is a balanced number of companies out there to supply the need."
Culture Clash
In order for the dot-com shakeout to truly come to a close, Challenger said e-commerce companies will have to transform a culture which still predominantly believes that it doesn't make sense to pay for anything on the Web.
"It will only diminish [when consumers] recognize that what they get when they pay for something over the Internet is better than what they get elsewhere, whether that's in terms of convenience, better price, or a better deal all around," said Challenger. "As that happens, we'll see that idea rooted out and that's going to create long continuing growth."
In the meantime, however, the cuts and shutdowns will continue.
"In this last stage there are going to continue to be companies that go under still and those that cut jobs because of the economy, and there will be startups that don't make it just like there are always startups that don't make it," said Challenger.