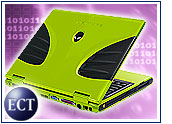 Laptops are no longer the slow-but-necessary alternative for mobile professionals. Today's notebooks offer powerful processors, dazzlingly large LCD screens, improved upgradability and features as potent as those you'd find on many desktops — all at attractive prices. Couple that with the siren song of ubiquitous wireless connectivity, and more buyers are seriously considering a notebook for their next business or home PC.
Notebook sales reflect this trend. According to NPD Group, retailers have for the first time been making more money selling laptops than desktops. Based on unit sales, desktops remain the retail king, accounting for about 60 percent of those sales. However, laptops are gaining ground: In 2000, 1 in 10 home computer buys worldwide was a laptop; these days, it's 1 in 5.
Plunging prices help set the hook. A notebook still typically costs half again as much as a similarly equipped desktop. But this year, for the first time, you can buy a capable laptop for less than US$1,000. For many computer users, thanks to lower cost coupled with faster speeds and better reliability, laptops have been steadily replacing desktops for everyday use.
Howard Locker, chief architect for desktop and mobile development at IBM's personal-computing division, said everything on the laptop is getting better, from processor speed to memory size. "Mobile performance is moving so rapidly that we will begin to see a merge between mobile and performance optimization," he told TechNewsWorld.
Fastest Currently Not the Lightest
The fastest laptop today might not always be the lightest or have the best battery capability. "Traditionally, when optimizing for mobility, the goal is to create a thin, light machine with the best battery life," said Locker. "When optimizing for performance, the technology might cause an increase in weight, resulting in a thicker machine or significantly reduced battery life."
But this will not stop continued developments, according to Locker. "The drives are getting larger, and costs are decreasing. Evolution does not show signs of slowing down," he said.
The trend toward thinner and lighter systems with long battery life likely will continue. Users who buy laptops typically say they want the flexibility to work wherever they are — and that's not necessarily plugged in at the office desktop. "Being connected and productive without the need to find an AC outlet is becoming a reality," said Locker.
All Kinds of Processors
There are several types of portable form factors on the market, each designed for a different type of processor, according to Jay White, manager of portable products at MPC Computers, a manufacturer of notebooks. White is responsible for development of laptops at MPC.
There are notebooks that use desktop processors, which are fast but have limited battery life and are heavy due to thermal requirements needed to dissipate heat build-up from CPUs. Speeds for the fastest models rank above 3 GHz. These units can be cost effective if the user is willing to live with the weight and battery tradeoffs.
Then there are processors specifically designed for mobile computing, like Intel's Mobile Pentium 4 processors. These are similar to desktop processors but generate less heat. The fastest CPU in this category is close to 3 GHz. These laptops have slightly longer battery life than a desktop processor and slightly smaller thermal requirements. White said these are a great fit for users seeking both speed and portability.
Finally, there are the Centrino processors, which Intel specifically designed for the mobile environment. The processors have low power consumption and low heat dissipation, which gives them a longer battery life and a thin and light form. The fastest Centrino CPU is 1.7 GHz. Plus, White said, the increased L2 cache size from 512 KB to 1 MB provides a big boost to speed, which in many cases can make up for the frequency difference between the Centrino chipset and the Pentium chipset.
The Need for Speed
White told TechNewsWorld that the speed improvements on laptops result from a combination of faster CPUs, larger internal caches, faster graphic solutions and faster hard drives. He expects to continue to see faster processors and faster memory technology emerge specifically for the mobile-computing platform.
However, he said there are a few things holding back laptop speed, such as the thermal requirements of cutting-edge components. "Faster internal components tend to draw more power and thus dissipate more heat," said White. "Designing portable products is always a balancing act between performance, form-factor, feature-set and thermal management."
Because of this and for other reasons, laptops likely will not completely overtake desktops. From a pricing standpoint, desktops will continue to be much less expensive because their form factor allows engineers to focus on raw speed rather than having to account for heat dissipation and power consumption.
Laptops Replacing Desktops
George Jones has been keeping a watchful eye on the laptop market. He is the editor of Maximum PC, a new computer magazine set to hit newsstands in January. Jones told TechNewsWorld that he has started to notice that many consumers who are buying their second or third PC for their home are buying laptops instead of desktops.
"Notebook sales and popularity are on the rise and are driving the increased power and innovation in them," said Jones, who pointed out that consumers are now able to purchase a 2.8- or 3-GHz notebook with a DVD burner and 15-inch screen for just $1,500. This level of power in a laptop computer would have cost twice that amount a year ago.
Jones said graphics chips, hard drives and CPUs will continue to get faster for notebooks. "There's a lot coming down the road for notebooks. Yesterday, graphics chips were designed first for desktop computers and eventually moved to notebooks," he said. "Today, graphics chips are designed from the beginning to go into notebooks."