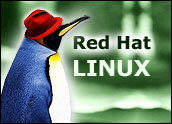 Red Hat on Tuesday announced details of its integrated virtualization strategy. The timing is a preemptive strike against rival Novell, which comes only a week before that company's annual Brainshare conference.
Red Hat plans to work with AMD, Intel, Network Appliance and XenSource to make virtualization technology a mainstay of the Linux market this year.
The company is developing tools, services and technology previews to allow its customers and partners to deploy computing resources at the lowest possible cost while maximizing the long-term use of each resource.
Conservative estimates show that servers typically operate at between 15 and 25 percent of CPU capacity, but with virtualization that could improve to 80 percent, according to Red Hat CTO Brian Stevens.
"Red Hat's strategy is to methodically target and reduce every cost driver associated with deploying IT infrastructure. We believe integrated virtualization will be a major milestone in this effort," Stevens said, noting that the next wave of virtualization will further reduce costs and increase operational efficiency.
Integrated Virtualization
Red Hat will tightly integrate virtualization capabilities with its operating system and make sure all aspects of the Red Hat Enterprise Linux platform, from management tools and installation to software management, will allow customers to deploy virtualized environments easily and effectively, the company said.
Consistent with Red Hat's open source model, the company said it will provide seamless integration and support for the Xen virtualization technology developed by the open source community. That support includes a complete platform to implement server consolidation, a comprehensive development and QA environment, and support for hardware abstraction.
Red Hat is trying steal some thunder from Novell's announcement at next week's Brainshare, according to Pund-IT Principal Analyst Charles King.
"Novell is at least a step or two ahead of Red Hat on Xen integration," King observed. "Red Hat's decision to get out the door and talk up the work it is doing with Xen and others is meant as a preemptive strike against the Xen announcement Novell will make at Brainshare next week."
Red's Roadmap
Red Hat's strike includes a product roadmap. Red Hat will make Fedora Core 5 available in March, which will contain a preview of Red Hat Enterprise Linux virtualization technology.
In the summer of 2006, Red Hat will make Virtualization Migration and Assessment Services available along with an Enterprise Virtualization beta. Red Hat Enterprise Linux v. 5, scheduled for general availability by the end of 2006, will feature fully integrated virtualization.
"By the end of this year the integration of Xen into Red Hat Enterprise Linux will result in several important customer benefits, including better support for consolidation; more flexible lifecycle management; and improved workload management and availability," said Tony Iams, vice president of System Software Research at Ideas International. "Further, by making Xen a pervasive part of its Linux distribution, Red Hat will drive virtualization deeply into the mainstream."
Calculating the TCO
Whether or not virtualization will become mainstream on Linux is not the big question. AMD and Intel have both announced on-chip virtualization tools for future servers. The question is the total cost of ownership (TCO) for each individual company.
Users need to ask themselves which tools most compliment their data centers, which are easiest to use and which are most affordable over the long term.
"Customers need to think about the TCO around virtualization because obviously by improving the performance and utilization of your hardware, a virtualization solution can help improve TCO," King said. "But there are tradeoffs between performance and ease of use that also affect TCO."
Participating in the Process
Red Hat's history of letting customers actively participate in the evolution of Red Hat Enterprise Linux continues with its integrated virtualization initiative.
Red Hat is including customers in the development process, providing them with tools, services and early technology previews to accelerate their time to value realization.