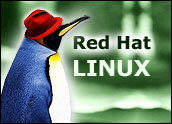 Red Hat this past week announced the availability of a new security certification for IT professionals: Red Hat Certified Security Specialist (RHCSS).
The announcement of the RHCSS certification is the company's latest milestone in its "Security in a Networked World" initiative launched in August.
Peter Childers, vice president of Global Learning Services, said deploying Linux and open-source solutions is the first step in enhancing enterprise security, and pointed to Security in a Networked World as a company-wide initiative that not only includes technologies, but services as well.
"We now offer the world's first Linux security certification, and the first performance-based security certification on a server OS," Childers said. "Organizations are under enormous pressure to prove that they are in control of their networks and data. Leaders will look to high-value performance-based tests of competency, such as RHCE and RHCSS, to determine who is qualified for today's information assurance roles."
Learning About the Program
Adding to its Red Hat Certified Engineer (RHCE) program, and Red Hat Certified Architect (RHCA) program, the company said RHCSS is the first performance based certification focused on security competency for enterprise Linux servers.
Over the past year, Red Hat has expanded its portfolio of security solutions with the availability of SELinux in Red Hat Enterprise Linux v. 4, Red Hat Directory Server and Red Hat Certificate System. The new RHCSS program provides a complete curriculum of hands-on training courses to support these solutions.
RHCSS, as with Red Hat's other certifications, will be entirely performance based and conducted on live systems. RHCSS requires exams for participants to prove enterprise security administration skills, including: securing network services, setting up directory services and authentication, as well as single sign-on, SELinux security policy administration, and specializations in certificate management and in configuring firewall and VPN solutions.
Red Hat Grows Up
Will IT professionals rush to sign up for the new curriculum? Only time will tell, but Interabor Solutions Principal Analyst Dana Gardner told LinuxInsider what is certain is that Red Hat is maturing in its development, as evidenced by the company producing more services to augment its products.
"Adding services puts Red Hat on a spectrum where it's starting to behave more and like conventional commercial ISV with a full set of offerings. So that begs the question, what does that mean for other open-source companies? Are they going to have to move up that spectrum as well?" Gardner asks.
A Morphed Model
Based on recent developments and joint initiatives between open-source and commercial companies, it appears a trend is emerging that could lead to a morphed licensing model that would make the answer "yes."
For example, IBM and Novell partnered last week to offer customers a single subscription option for servers running SuSE Linux Enterprise Server 9 in the IBM BladeCenter chassis.
And last month JBoss and Microsoft set out to bridge part of the gap between open-source and commercial software with plans to explore how their respective technologies can work together better.
"Perhaps over time open-source companies will morph into commercial companies. We also see movement in the other direction where commercial companies kind of morph towards open-source," Gardner said. "So perhaps they will meet in the middle somewhere and we won't be able to make much separation between a commercial ISV and an open-source ISV. It would simply be an ISV."