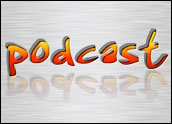 OK, you heard Oprah rave about the Kindle, and you were so impressed that you ordered one. Then you ended up waiting because the darn thing was out of stock — for months!
Your patience is being rewarded, and you'll be getting the improved version 2 of the Kindle, which has more memory to store books, better battery life, an improved screen and more intuitive buttons.
And the same exact price tag: US$359. It's also lighter and thinner, stealing a play out of Apple's book.
At least the improvement at the same price is a reward to those of you who ordered early and demonstrated great patience. For the rest of us, it's just an indication we'll have to wait a little longer until Jeff Bezos has squeezed enough profits out of you early adopters and lowers the price.
---

Listen to the podcast (13:10 minutes).
---
Who Needs Kindle?
Amazon is counting on customers to throw down a few hundred dollars for a device that's built only to read e-books and that doesn't really fit into a normal pants pocket.
Meanwhile, an outfit called Shortcovers is gearing up to launch a mobile application that basically turns a device that a lot of people already have — a smartphone — into an e-book reader. It's also going to sell books in a somewhat different way.
Shortcovers will offer bite-sized bits of literature alongside full books. One chapter of a book, for example, may cost a dollar, and if you get into it, maybe you'll buy the next chapter or the whole thing. If not, you're only out a buck. There will also be a fair amount of free content. Shortcovers could throw some water on the Kindle's fire — or it could turn out to appeal to a completely different crowd.
There's a big difference between reading a book on your cell phone and reading one on a bigger, non-backlit, dedicated e-book reader. And neither really does a great job of simulating the comfort and relaxation of sitting down with a nice dead tree in your lap.
Who Needs to Pay?
With 10 minutes to kill and a G1 or iPhone, you could choose to play one of the myriad games that are available for either platform. You could browse the Web if you like, catching up on the latest celebrity gossip, perhaps, or maybe go to LinuxInsider and see what kinds of names Linus is calling the BSD folks these days.
Or maybe you could curl up with a nice e-book, courtesy of Google Books. You didn't think they spent all that time and money scanning all those classics just to let them sit there, did you?
No, Google planned to share them all along, and now they're available on a part of Google Books that's accessible through either phone's browser.
The books that are available are mostly classics, since they're the ones that are in the public domain — the authors are long dead and there are no royalty hangups to deal with. So if you want to brush up on your literature, just whip out your phone.
Vultures With Satellites
No, those aren't satellites circling over Sirius XM Radio — they're vultures. OK, they're vultures who happen to own a lot of satellites, but now we're just splitting hairs.
The point I'm trying to make is that the struggling and recently merged Sirius XM is probably not going to make it much longer, and the race is on to see who can scoop it up. Saddled by a huge load of debt, thanks to its contracts with such heavyweights as Howard Stern, Martha Stewart, the NFL and NASCAR, the satellite radio operator is exploring its options — which include bankruptcy.
EchoStar, which owns Dish Network as well as a huge chunk of Sirius XM's debt load, is considered to be the front-runner. That's mainly because it could potentially leverage that debt into clout at the bargaining table and get radio to complement its TV offerings at a pretty healthy discount.
Not to be outdone by its lesser rival, DirecTV owner Liberty Media is reportedly interested in getting in on the action as well. This could get interesting.
Get Your Gossip
For people who can't get enough titillating information about actors, singers and other famous types, there's a new Internet destination: Wonderwall.com.
Microsoft launched a beta version of the new site as a complement to its MSN Entertainment coverage, apparently on the theory that there can never be too much celebrity gossip.
It's loaded with pictures of stars that visitors can click on to read news stories, features and commentaries. For example, a photograph of Ashton Kutcher and Demi Moore led to a story listing celebrity Tweeters, such as pop singers John Mayer and Britney Spears and comedic actress Tina Fey, and uh, South Africa, and uh, the Iraq, everywhere like such as, and I believe that they should, uhhh . . . sorry, I lost myself there for a minute.
One Way Out
Intel has taken its lumps from the economic downturn, but it appears to be defying the general trend toward hunkering down. In a speech to a Washington audience, CEO Paul Otellini announced the company would be dropping a cool $7 billion to bolster its 32 nanometer manufacturing facilities.
The news comes just weeks after Intel reported dismal fourth-quarter financial results and announced it would cut as many as 6,000 jobs through the closure of older manufacturing facilities in the U.S. and Asia.
So, what's Intel thinking? As spokesperson Chuck Mulloy put it, "In the face of a large technology downturn, you don't save your way out of a recession, you invest your way out of one." And to that we say, go Intel.
Likely Story
Imagine you're the CEO of Google and you also happen to be on the board of Apple. OK, stop counting all that imaginary money and climb down from your imaginary private jet for a moment, would you?
So you're sitting at an Apple board meeting and someone suggests maybe that you ought to leave multi-touch out of the phone you're developing. Do you do it?
A lot of media outlets are asserting that Eric Schmidt did exactly that, but after examining the issue, a couple of clear-headed holdouts aren't so sure.
First of all, despite all the sword-rattling and chest-thumping Apple's acting CEO Tim Cook indulged in over the patent issue, Apple really doesn't own the patent for multi-touch. Sure, it did recently receive a patent related to the iPhone's touchscreen capabilities, but it doesn't cover multi-touch.
So those of you Android fans who think there's some conspiracy on Apple's part to keep multi-touch off your G1, relax. The truth is, it's just tricky technology that even the world's best programmers have trouble getting to work just right.
As for you media lemmings, aren't there some Steve Jobs health rumors you ought to be chasing down?
Breath of Life
A little company called "Psystar" leaped onto the national scene last April when it played David to Apple's Goliath with a Mac clone product launch that was part cloak-and-dagger, part Keystone Cops.
Psystar and Apple are now facing off in court. The dispute erupted in July, when Apple sued the smaller company for copyright infringement. Psystar responded with a claim that Apple held a monopoly in the market for Mac computers.
The claim was thrown out by a federal judge in San Francisco. That's when Psystar issued counterclaims alleging copyright misuse.
A California judge has ruled that it may use that line of argument in mounting its case, so it seems that Psystar will live another day to pursue an unlikely legal victory.
In Sync
Google has managed to work its way into just about every crack and orifice of the tech world. Some people rather enjoy the sensation. They use Google products like Calendar and Contacts and Gmail to organize their lives and look up information from any place with online access.
But those people also sometimes use other applications for similar tasks out of necessity. The contacts application on your iPhone, for example, isn't necessarily identical to your list of contacts on Google, and you can't tell your phone to call up a guy who's on Google Contacts but not on the iPhone's native contact list.
So you keep separate lists, they never talk, and your whole little world falls to pieces. Well, a new beta version of Google sync will keep all those devices in the loop with identical contact and calendar lists, and they'll stay updated automatically through push.
It'll work for iPhones, Windows Mobile phones and BlackBerries. There — now you don't have to fiddle with all those gadgets. Back to work, Batman.
Windows App Store
Windows Mobile is one of the longest-running smartphone operating systems out there, yet it still doesn't have an app store — a centralized, one-stop-shop storefront where a Windows Mobile user can browse tons of applications, all of which will work on any phone running the current version of the OS.
Android has its Market, and Apple's App Store has grown to Costco proportions. So where's Microsoft — did it change its mind about liking money? Oh, probably not — a recent article in The Wall Street Journal reported that Windows Mobile will soon have its own application store, which lent momentum to a rumor that's been going around for months — ever since a blogger spotted a very telling help-wanted ad posted by Microsoft.
Even though the company's going to be relatively late to the game, third-party mobile developers may welcome it. A survey from Evans Data reveals that a leading factor for developers when they consider what platform to target is cold, hard cash. In other words, how much money can they make? Windows Mobile happens to be a pretty widely deployed smartphone OS.
Java to Go
Of course, if you're a Mac developer, the new features coming with OS X Snow Leopard might be really exciting for you.
On the other hand, The rest of Apple-using humanity isn't really jumping out of its skin in anticipation. From the get-go, Apple has said its next version of OS X will primarily concentrate on behind-the-scenes tweaks and improvements that will give developers more tools to create more powerful applications.
Powerful apps are good. I like those. But what about the goodies — the forward-facing features that the average user can start fiddling around with right after upgrading? Expectations were set pretty low in that regard, but an AppleInsider report citing anonymous sources suggests that Snow Leopard could have some new toys that incorporate location-aware software and better multitouch capabilities.
Location-aware applications are a big hit in cell phones, so why not laptops? Perhaps now, when you wake up in all those strange places, your Macbook will know where you are — even if you don't.
Security Snafu
If your business happens to be IT security, you might make a habit of checking your Web site to make sure it isn't vulnerable to attack. If not, a group of Romanian hackers might launch an SQL injection attack on your site, just to embarrass you.
That's what happened to the Russian security firm Kaspersky Lab, which got an email from the tricky hackers just an hour before they did the deed. The whole thing was probably a way to get some attention, the Kaspersky folks asserted, since no data was compromised.
And, to be fair, this kind of attack is one of the toughest to prevent. In this case, a third party provided the particular bit of code that allowed the attack to succeed. The weakness slipped past Kaspersky's review process, leaving it with a red face and a little 'splaining to do.
Also in this week's podcast: IBM, Amazon team on cloud offering for SMBs; IBM-Juniper deal leverages cloud infrastructure.