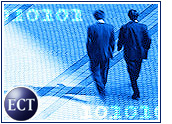 Razorfish (Nasdaq: RAZF) reversed a reported after-hours decline to trade up 11 U.S. cents at $1.33 Friday morning, after officials reportedly predicted a better second quarter than analysts expected.
After the close of trading Thursday, Razorfish reported a first-quarter loss and said that top executives, including its chief executive officer, had stepped down.
Chief financial officer John Roberts reportedly told investors in a conference call that the Internet consulting and Web design company could break even or lose 3 cents per share on a pro forma basis, against analyst expectations of a 6 cent loss.
Revenue for the first quarter, ended March 31st, fell to $42.7 million from $64.2 million in the same period a year earlier, Razorfish said. The company reported a loss before amortization of intangibles and other expenses of $6.6 million, or 7 cents per share, against pro forma income of $6.5 million, or 7 cents, a year earlier.
Razorfish CEO Jeff Dachis "has decided not to continue" in that post, and chief strategy officer Craig Kanarick is also stepping down, the company said. The two, who founded the company, will remain directors.
Jean-Philippe Maheu, formerly chief operating officer, takes over as CEO and becomes a director, effective immediately.
"Our primary goal is to manage our return to profitable operations and positive cash flow while successfully serving the expectations of our clients, shareholders and employees," Maheu said. "These financial results reflect this direction."
Razorfish embarked on a restructuring plan in February, cutting about 400 jobs, to deal with a slowdown in demand for Internet-related services.
"We continue to gain traction with new and current clients, including Cisco, Ford and Natwest, and we are beginning to see the benefits of our cost-reduction efforts," said Maheu.
Razorfish shares are down from a 52-week high of $23.63. The stock's all-time high, $56, was set in February 2000.