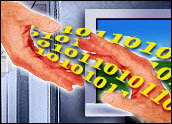 Despite some chest beating by the entertainment industry Wednesday over the shutdown of one of the biggest index servers on the eDonkey network, a raid by Belgian and Swiss police seems to have had little impact on file-sharing traffic.
"We have seen no effect on the eDonkey traffic levels," Andrew Parker, chief technical officer at CacheLogic, a UK-based watcher of Internet traffic patterns, told the E-Commerce Times.
"On a technical level that isn't particularly surprising," he added. "The Razorback server is purely an eDonkey index server. It doesn't actually contain any of the illegal content itself, just the details of who is sharing what content."
Razorback2 was rubbed out Tuesday when, in a coordinated offensive, Swiss police arrested the server's operator and Belgian gendarmes seized his hardware in an Internet hosting center just outside Brussels.
Major Victory
Razorback2 was a very popular eDonkey server, used by an estimated one million file sharers, or about a third of all eDonkey users.
"This is a major victory in our fight to cut off the supply of illegal materials being circulated on the Internet via peer-to-peer [P2P] networks," proclaimed Motion Picture Association Chairman and CEO Dan Glickman in a statement.
"By shaving the illegal traffic of copyrighted works facilitated by Razorback2," he continued, "we are depleting other illegal networks of their ability to supply Internet pirates with copyrighted works which is a positive step in our international effort to fight piracy."
In a separate statement, the music industry's European arm, the International Federation of Phonographic Industries, observed, "This is a very significant breakthrough in the fight against Internet piracy internationally, removing one of the biggest and most well known sources of illegal music files on the Internet."
Antique Technology
Although popular, Razorback2 was far from state-of-the-art in the current eDonkey world.
"Razorback2 uses the old eDonkey protocol, which is in some ways similar to the old Napster protocol in that it relies on central servers," Fred von Lohmann, a staff attorney with the Electronic Frontier Foundation in San Francisco told the E-Commerce Times.
"For the last four to five years, peer-to-peer protocols have been decentralized," he continued. "So in some ways, by shutting down Razorback2, they're shutting down an antique in the peer-to-peer world."
Parker, of CacheLogic, explained that modern eDonkey clients, such as eMule, automatically download a list of index servers at startup. With Razorback2 out of the picture, eDonkey clients are just rerouting traffic to the more than 100 index servers still in operation.
Clever Algorithm
Moreover, he said, the eDonkey network can operate without any index servers due to a fully decentralized component called KAD, or Kademila.
The theory behind Kademila was developed by Petar Maymounkov, now a doctoral student at the Massachusetts Institute of Technology (MIT) in Cambridge, Mass.
"It's an algorithm that avoids the need for a central server altogether," he told the E-Commerce Times. "It's a moderately clever algorithm that can find something by asking a small number of computers on the Internet.
"In the current state of the art, people don't want to hear about central servers any more," he added. "They're remains of the past. As you can see, they're being shut down one after the other."
P2P Keeps Sharing Along
Those shutdowns, though, don't seem to be crimping P2P growth, according to the EFF's von Lohmann.
"The number of users on peer-to-peer networks have been at record highs for several months," he said.
"It's true that they're shutting down some site operators," he acknowledged, "but when you have tens of millions of people using these networks, shutting down a few sites — even a high profile one like Razorback2 — is unlikely to substantially change reality.
"Copying of music and movies is more prevalent today than it was in 2001 when Napster was at its height," he contended. "All the lawsuits against thousands of individuals as well as people maintaining sites like Razorback2 don't appear to be making a serious dent in peer-to-peer file sharing."