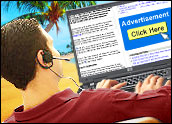 Paul Martino, CEO of Aggregate Knowledge, describes three categories for online advertising: Rich media, video and traditional display.
Based in San Mateo, Calif., Aggregate Knowledge provides technology for online advertising and search.
In an ECT News Network exclusive interview, Martino discusses the present and future of the online advertising market.
Economic Slump
---

Listen to the podcast. (18:05 minutes)
---
Online advertising trends that he sees developing now include a downturn in online advertising related directly to the slowdown in the U.S. economy and the movement of ad dollars from traditional media sources to online video.
Martino predicts that the slowdown in online ad spending will continue through the fourth quarter of 2008 and into 2009.
Firms like Microsoft, with its Atlas Institute, and VideoEgg, with its online video ad technology, are fostering innovation in the online ad space. Technologies such as Flash, Flex and Silverlight are also helping to facilitate the growth of online advertising.
At the moment, a fast-growing all-purpose device, the mobile phone, has not yet reached a critical mass of ad dollars. But early players such AdMob are creating some early success in that niche.
Blurred Lines
One key trend Martino sees developing for the future is the blurring of lines between media. For instance, if IP content is displayed on a television, is it Internet or is it TV? Or, if a widget contains a full Web site experience, is it an ad or is it content?
Finally, with the rapid movement of dollars to the online space, Martino believes it's just a matter of time before online advertising dollars will overtake traditional media.
Here are some excerpts of the interview:
E-Commerce Times: What is the current state of online advertising?
Paul Martino:
We're definitely seeing a downturn related to the overall economic condition in the United States here. Certainly in the U.S., we're expecting to see some slowdown in spending in Q4 and through much of '09. We think that that's going to be counterbalanced by the continuing trend of moving television advertising online.
So the real question for '09 is going to be who's going to be the winner, the downturn that we're seeing or the movement of video online? One will win, and that will have a very interesting effect on people who are pure-play Internet advertisers.
ECT: What trends do you see in the next two to three years in terms of online advertising?
PM:
One of the big things that I think we're going to see happen — and it might not be '09 because of the overall trend — but I think that by 2010, we're going to see a lot more focus on the display side. So much of the online advertising has been direct response oriented, search-term oriented.
And in many ways there are clear leaders with a very good offering there, and the space that hasn't had a lot of innovation is around display, around dynamic creatives, around personalized ads, around telling the story in a way that they used to be able to do on television. So I expect to see a whole lot of investment in the brand-oriented side as opposed to the direct-response side, which to some extent is now, I think, getting saturated.
ECT: What do you see as being the definition of online advertising right now?
PM:
I think that online advertising can definitely have many different formulations, but to some extent the way we see it here at Aggregate Knowledge is, there are really two primary classes of online advertising. There's the direct response — very much like DRTV: "I'm gonna buy a search word and I expect to get a conversion on the click and I'll pay you for it." And on the other side of the fence, we have much more the display side, and that encompasses more the brand impressions: "I'd like to do a new product launch where you don't know my product exists."
That also includes a lot of things in the video space as well as the branding-oriented areas. And I think that that is to some extent my taxonomy of the world between those two big buckets. Obviously, on the display side, there's gonna be plenty of sub-buckets, whether it be, say, display brand awareness, etc. We can go into a lot more detail on those sub-categories.