Project management applications are a popular inroad for winning business converts to the Linux desktop. The software category provides some well-endowed tools to maximize business knowledge and techniques for project planning and progress monitoring.
More than just a planning scheduler, project management apps help business leaders — whether corporate or small business — control their resources and costs. These specialized apps include integrated functions such as scheduling calendars, performance charts, budget management and quality control.
This week Linux Picks takes a close look at three project management apps that go beyond the features found in the lighter-weight offerings available for Linux distros. Project Management Planner, TaskJuggler and KPlato cater to collaborative features to enhance project planning. These three apps are packed with comprehensive tool sets, so plan on setting aside considerable time in familiarizing yourself with each one before committing their use to an important project.
Microsoft Replacement
Project Management Planner, aka "Planner" for short, is the project management component of the Gnome Office suite. It used to be called "Immendio Planner." This app uses four different tools or views to interact with projects.
Planner, more than any other Linux project planner software, is viewed as a solid alternative to the staple product on the Microsoft Windows platform, MS Project. It supports Gantt charts, resource allocation and integration with other Gnome applications.
Planner could be a good choice if you decide to switch planner software for an already-underway project. You can import a Project XML file into Planner. Importing an existing XML file can speed up testing its suitability as well.
Be aware, however, that the import XML feature only partially works. For example, MS Project does not save project properties information to the XML file. Also, calendars do not import because the two program's calendar tools store data differently. Ditto for Resource Groups.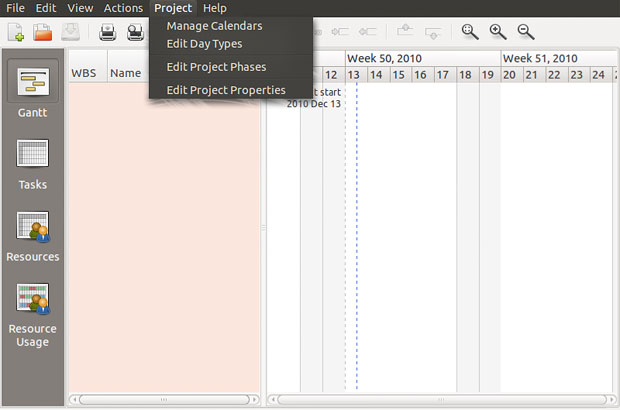 Planner
Viewing Results
Project planning is an intense and complicated function. Planner tries to meet those two realities by making it simple to eyeball progress. The View menu provides four views that let you cycle through the planning process. You can easily jump from one view to another by clicking the appropriate icon in the left panel.
The first option is the Gantt view. Gantt charts show a graphical representation of a task's duration measured against the project's ongoing timeline. It shows the smaller tasks that comprise the completed project in a timeline view with the resources needed for each task shown attached to that task.
The second option shows the Tasks view. It allows for the creation and editing of individual tasks as well as assigning resources to tasks. Option three shows the Resources view. This lets you set up the creation and classification of resources.
The last viewing option is the Resources Usage. This view is a graphical representation of a project's resource usage. This is similar to the Gantt view, but it emphasizes resources instead of tasks.
Planning Bloatless
A strong point in using Planner is its design priorities. The developers made some critical choices on the types of features project planning really needs.
This means that new users especially will not get sucked into a maze of nice but non-essential tools. Seldom-used planning features are not included. This means that you do not have to wade through laundry lists of menu choices.
Bottom Line
Planner is a top-notch project management tool. Its calendar tool makes it simple to enter tasks for both working and non-working hours. But it has a lot less splash than TaskJuggler and KPlato.
Juggling Tasks
Perhaps the best feature of TaskJuggler is its freedom from any one desktop suite scheme. For instance, it is not a part of either the Gnome office suite like Project Management Planner or the KDE desktop suite like KPlato. This third release also runs on Windows and Mac platforms.
TaskJuggler
To be clear, TaskJuggler is developed around the KDE desktop environment, version 3.5.10. But it is separate from any one office package in either Gnome or KDE offerings. Plus, it uses an innovative method not found in other project planning apps.
TaskJuggler is a detail-oriented project manager. It has its own unique look and feel. For example, it has a well-designed GUI, or Graphical User Interface. But unlike other apps, it placed the onus of planning and progress monitoring on the user instead of on fancy charts.
This app places a strong emphasis on manual resources and task entry. The Notepad-style entry method needs some time to learn. But the results are worth the effort. You can add declarations, attributes, flags, and macros to suite your every whim.
Using It
The Notepad appearance comes from the two-tab entry process. You enter data in the Editor tab in the main viewing window. You categorize the details by clicking on the appropriate category in the left panel. The choices are Tasks, Resources, Accounts and Reports.
These categories serve as part of the tabbed entry design. Clicking on each category opens a window under the label to show the details as you make entries in the main editor tab window.
The menus at the top do not list anything more than the side panel tabs. But the combination of menu and icon and panel listings let you work your way.
Traditional drop-down menus and a second row of function icons across the top of the application window provide access to all of the program's features. Click on the Report tab in the main viewing window to see the results. The view shows the details in various graphical charts.
Juggling Advantages
I set up the same dummy project in testing each of these three project planning apps. I liked the text-entry approach built into TaskJuggler. But the manual versus menu-driven method was cumbersome.
TaskJuggler' uses a system of filters and report algorithms to create the essential elements of project planning. These include task lists, resource usage tables, status reports, project calendars and project accounting statements.
This approach is much different than methods based on Gantt chart editing tools. But I can see how it is more conducive to more easily scaling to larger projects.
Bottom Line
Setting up projects is more detailed, but the results are more easily tailored to the varying needs of large and small projects. If you want a new approach to project maintenance, TaskJuggler is a solid option.
Large Project Ease
KPlato, part of the KDE Office Suite, is an ideal software solution to track and analyze costs associated with larger projects with multiple resources. Like its Gnome equivalent in Planner, KPlato relies on Gantt-style charts.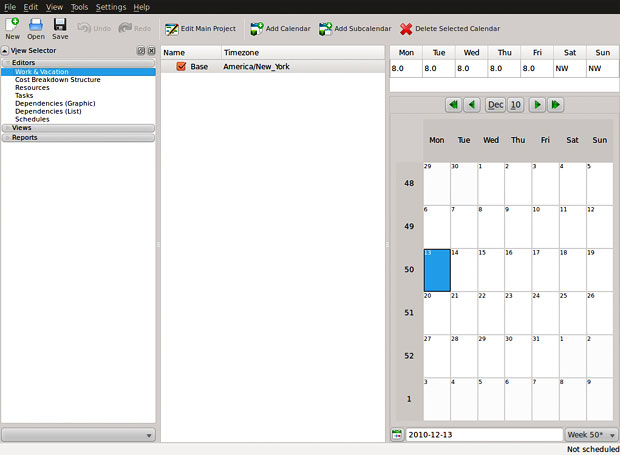 KPlato
One serious differentiator, though, is KPlato's tool that associates resources with tasks as well as costs. This lets you keep track of resource allocation throughout a project's duration.
KPlato relies on different types of task dependencies and timing constraints to model projects. The process involves defining your tasks, estimating how much effort each task requires and allocating resources to accomplish the goals. KPlato schedules the tasks according to network and resource availability.
Plato Planning Process
In some aspects, setting up a project plan is similar to using MS Project. The Gantt chart calculates the relationship between task list and resource allocations per task.
I was a bit surprised by the Spartan GUI of this app. KDE products usually show a lot more flare. KPlato shows a View Selector in the left panel and a project viewing window as the main display.
Drop-down menus offer ample feature options. But no redundancy exists as there are no icons or tool boards to provide secondary access to menu items.
Simple Scenario
As I got more familiar with using KPlato, I started to like its pristine appeal. It was actually fast and clean. I found this approach to be far less intimidating than the other two programs as I set up my test project parameters.
I particularly like the menu option to create a template from a document. The dialogs to create and edit the project worked well. The different types of tasks, calendars, resources, accounts and progress bars present users with a wide range of options.
I also liked the ability to link tasks to different scheduling constraints. For example, options range from "As soon as possible" to "As late as possible (late start)," "Must start on target time" and "Must finish on target time." Other scheduling options include "Start not earlier than target time," "Finish not later than target time" and "Fixed interval."
Bottom Line
KPlato has a clean look without compromising on functionality. It is powerful enough to handle complex, large corporate projects. Yet is is simple to use thanks to the pre-configured templates.