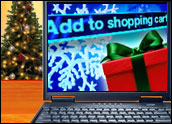 Every holiday season, online retailers develop a "tractor beam" focus on customers, ensuring orders are met, packages arrive on time and toys are in stock. However, historical data show that January is even busier than December — and more valuable for building and solidifying customer loyalty, according to BroadVision, a global provider of personalized self-service Web applications.
Post holiday activity increased 36 percent from 2002 to 2003 and is projected to increase 48 percent from 2003 to 2004, according to BroadVision's research.
Heavy Follow-Up
Alex Kormushoff, BroadVision's executive vice president of worldwide operations, told the E-Commerce Times that online retailers must be prepared for heavy January post-seasonal traffic to manage a wide range of complex and high-touch online interactions and transactions, including product returns, refunds, order revisions, coupon redemptions and product support requests.
"This Christmas season in particular has been an interesting season because the whole promise of next generation e-commerce is here to stay," Kormushoff said. "With nearly $9 billion of spending through the Christmas retail season, clearly online shopping is something that is not going to go away."
However, Kormushoff said that if retailers don't handle these post-holiday customer interactions properly, it could drive customers to competing sites. BroadVision concludes that successful retailers recognize that attracting a new customer to the site is the beginning of a long-term relationship, not an end in itself.
Steps to Success
What, then, must online retailers do to succeed in January and beyond? Make the total Web-based shopping experience self-service, BroadVision advises. That means offering high-touch self-service before, during and after the purchase.
"We see that customers go online and order something, but when they come back for that second set of touch points, they have to go back into the store or they go back through telephone channels, so they are somewhat disjointed from the whole self-service process," Kormushoff said.
He added, "Our customers are realizing that through our software, they can continue that Web-based service point of view that gives the customer more control, more consistency and more ties back directly through that retail establishment."
That, Kormushoff said, maintains customer loyalty and the customer's stream of consciousness, which leads to upselling, cross-selling and all around additional selling opportunities for the online retailer.
Changing Requirements
"As customer requirements continue to change through the maturation process of e-commerce, online retailers need to be able to build applications in a very quick and agile way," Kormushoff said.
He explained: "An online retailer, for example, may realize it needs to implement a rebate process. Under traditional methods that may take months to develop. But BroadVision's BV process allows the online retailer to map out the process, implement and launch the code on to the Web site."
Kormushoff said one of the key challenges for online retailers during the 2004 online holiday shopping season was scalability. With nearly 25 percent year-over-year growth in the holiday shopping period, many online retailers were not prepared to handle the boom.
"We are not in a state of maturity yet as a retail industry as far as being able to predict the growth, so these e-commerce systems have to be able to scale to unidentified growth," Kormushoff concluded.