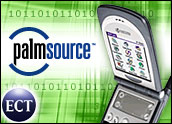 PalmSource, the mobile software maker that has seen its share of the hand-held market eroded by smartphones and other competitors, has agreed to be purchased by a Japanese software firm in a deal worth about US$324 million.
Access, best known as the maker of the NetFront mobile device Web browser, said it had reached a deal to buy the makers of the Palm OS and that it would seek to expand its menu of offerings for powering hand-held devices. The sale price of $18.50 per share represents a sizeable 83 percent premium for PalmSource shareholders.
Win-Win Situation
Access CEO Toru Arakawa said PalmSource's existing base of some 39 million devices running on its software as well as a sprawling network of 400,000 developers building applications to work with the OS made it a desirable partner.
"By combining Access' robust NetFront browser platform and its proven business relationships with PalmSource's advanced operating system, application portfolio, user interface and developer communities, we will be able to produce a comprehensive yet flexible solution for the mobile market," Arakawa said.
Analysts hailed the deal as a win for both parties, with PalmSource getting a financial rescue amid a plunging stock price and slumping sales and Access winning huge numbers of potential new customers for its mobile browser, which is popular in Japan but has struggled to gain traction in other important markets.
PalmSource has seen its stock price slip steadily over the past year amid slumping sales. That in turn is a result of as shift in the hand-held device market away from standalone PDAs such as the Palm and toward all-in-one devices such as smartphones.
Changing Landscape
That trend is now well entrenched and though PalmSource has made efforts to expand the range of hardware that its operating system runs on to include the popular Treo, it has also seen large and aggressive competitors move into the space.
Microsoft's Windows Mobile operating system has made inroads, and phones and merged devices running on the Symbian operating system have proven among the most popular in the still-small but fast-growing smartphone market.
Gartner analyst Todd Kort said while the death of the PDA market was prematurely predicting by many industry watchers — sales rose 25 percent in the first quarter — Palm has still watched its market share shrink as the definition of PDAs expands to include the hugely popular Blackberry from Research in Motion.
The sale comes as PalmSource has moved aggressively toward embracing the Linux operating system, striking a deal with MontaVista Software to create Linux-based smartphones. Previously, PalmSource had purchased China MobileSoft as part of an effort to make its applications work with Linux.
Enderle Group analyst Rob Enderle told The E-Commerce Times that PalmSource was likely to take a body blow when Palm announced support for the Microsoft Mobile 5 platform, which is expected to happen shortly.
"If this happens, it would have resulted in a hard hit that PalmSource likely would not have survived," he said. "They will survive it now, but coming back will be very difficult particularly since the comeback is predicated on a Linux move and, with the exception of Red Hat, the Linux vendors aren't doing particularly well right now."
The Palm Situation
Enderle said PalmSource's own former parent company — and now the owner of the Palm brand name again — is likely the biggest threat to PalmSource. "They own the name and if they move to Microsoft's platform while Access is trying to move to Linux, Access will bleed developers badly," he added. "With Sony abandoning the platform all eyes are now on Palm and Palm is signaling a major change. Clearly, of the platform vendors, Microsoft is the biggest threat but Palm is what makes them deadly."
PalmSource shares have been slipping for some time, a skid that accelerated recently when it warned that fiscal 2006 sales would fall by as much as 8 percent. In May, the company agreed to sell the rights to the Palm brand name to its former corporate parent for $30 million in cash.
At its peak, the Palm story was of the great tech-era successes, with the original Palm Inc. IPO staging a blockbuster first day in 2000. The later stock slump helped prompt the spinoff. PalmSource was further hurt by Sony's decision to stop marketing its hand-held device, the Clie, in the U.S.
Access, meanwhile, could become a force with both the PalmSource software and its own browser and other embedded applications designed specifically for mobile use. Many analysts believe a strong, reliable and standard mobile browser is a needed element to help the mobile Web gain traction with users.