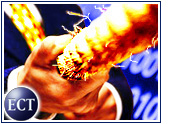 Former Amazon.com (Nasdaq: AMZN) partner Overstock.com took dead aim at the leading e-tailer's core business Monday with the launch of a bookstore section and the promise that it would undercut Amazon's list prices.
Salt Lake City, Utah-based Overstock, which was built on reselling overstocked and discounted items from struggling retailers, said it would sell books in many categories at 10 percent off Amazon's list price.
Overstock CEO Patrick Byrne said that the company is launching the books category now because it has achieved profitability in its main categories, which include electronics and computers.
"We waited until we had reached profitability before pushing into this area," Byrne said. "Books represent a huge opportunity for us to add incremental profits to our bottom line, without any new investment in systems or customer acquisition."
Lashing Out
In announcing the new category, Overstock blasted Amazon's growth philosophy.
"Our competition invested massively in high-tech warehouses with allegedly labor-saving technology," Byrne said. "We did not, and now we can pass the savings on to the consumer."
Overstock also said it would give any first-time buyer free shipping. Amazon began offering a free-shipping deal on orders over US$99 about two weeks ago.
Failed Marriage
Overstock briefly partnered with Amazon earlier this year. In August, Overstock was tapped by Amazon to manage part of its electronics category, fulfilling orders on about 700 items that Amazon took through its site.
Weeks later, however, Overstock quit that agreement, citing the failure of a second deal in which Overstock would sell used computers. In published reports at the time, Byrne said Overstock sold only one computer during a three-day period through Amazon.
Growing Competitor
Byrne said Overstock is on track to top $100 million in sales this year. Bargain hunters helped Overstock record its strongest month of the year in October, with sales up 40 percent over last year, he added.
In terms of size, Amazon remains the Goliath in this battle, drawing five times as many visitors during September alone, according to Web measurement firm Jupiter Media Metrix (Nasdaq: JMXI). However, Byrne said he believes hard times will help Overstock succeed.
"Our business is counter-cyclical," Byrne said. "In a recession, consumers look for ways to save money and find the best values."
Partner Prowl
In related news, an Amazon partner that has worked well with the e-tailer, Toys 'R' Us (NYSE: TOY), reported Monday that sales at the companies' co-branded Web site increased to $39 million for the third quarter of fiscal 2001, compared to $23 million for the third quarter of fiscal 2000.
Operating losses at Toysrus.com were $17 million in the quarter ended November 3rd, in line with expectations, and down from $30 million in last year's third quarter, Toys 'R' Us said. These figures do not include the impact of the non-recurring charges resulting from the Amazon-Toys 'R' Us alliance.
Amazon made headlines of its own last week when it reorganized itself in order to focus more heavily on providing third-party services, a nod to how important that business has become for the e-tailer.