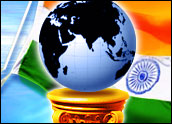 Pressed to establish best practices and comply with global quality audits, Indian business-process outsourcers (BPOs) have taken an interest in outsourcing firms in the United States, Ireland and the United Kingdom and employed the help of outsiders to guarantee their future success.
Approximately 800 or 900 Indian companies take exported business process work, said Andy Efstathiou, a program manager for the Yankee Group. The top seven to 10 of them command the bulk of the business, much of it originating from the United States, where business processes such as data entry, loan and other application management and decision making, inbound customer calls and Web replies to customer inquiries cannot be handled as cost effectively as in India.
Of these firms, the largest five have established general strategies to offer expanded services and to expand themselves, Efstathiou said, making available not only Indian workers but on-shore workers as well.
Big Footprint
"They are expanding their footprints," he told CRM Buyer, buying up foreign BPO operations and hiring employees in their home countries. "It had been mostly hiring, and now they're buying up companies. It's definitely a strategy. It's not too soon to call it a trend."
The Indian BPOs have been growing at a rate of 35 percent to 40 percent a year, he said, and their high price-to-earnings ratios have given them the ability to make acquisitions. Recently, HCL purchased British Telecom's BPO unit in Belfast, Northern Ireland.
Not only are the Indian firms making acquisitions because they can afford to grow their brands and the facilities linked to them; they're also aiming to win the business of U.S. and UK companies that want to outsource but don't want the negative publicity associated with sending jobs overseas.
"Indian companies also use acquisitions to establish a local face for business-process outsourcing to mitigate the media scare," Efstathiou said. Just weeks ago, outsourcing commanded a significant space on the platforms of both U.S. presidential candidates, and media coverage reflected consumer concerns about a rise in unemployment as U.S. corporations continue to outsource work.
Second-Tier BPO Locations
Indian companies that do business-process outsourcing are growing significantly, agreed Jaime Haak, manager of marketing and member communications for the American Teleservices Association, based in Indianapolis. Canadian firms rank No. 1 as the outsourcing destination for U.S. companies, but "India is a close second," she told CRM Buyer. "Although we have not seen a decrease in business overall [among ATA member firms], clearly growth rates domestically have slowed."
In its fight to keep call center and other customer-facing functions on American soil, the ATA sees some promise in the acquisition of U.S. BPO firms by Indian leaders. "It's too early to determine what the impact will be," said Haak. "However, it is certainly beneficial that Indian firms have U.S. ties because it will necessarily cause better compliance and better adoption of best practices."
Quality Counts
With the rapid growth experienced by Indian firms, however, experts worldwide have voiced concerns that the work delivered by BPO employees will suffer.
Price Waterhouse Coopers partner Thomas Barrett recommended that Indian organizations apply internationally recognized control audits such as the Statement of Audit Standards-70 (SAS-70) to improve the value of the work they complete and assure clients of their consistent quality.
Adoption of something like SAS-70 also would fit well with client and acquired-firm audits, which may use the same standard. And regulatory requirements like Sarbanes-Oxley in the United States provide a challenge to outsources to maintain effective audit control.
Accompanying the acquisition of foreign competitors by Indian BPOs, Efstathiou said, "there will be integration challenges, and there may be quality of work issues. In general, in the long term, it will be a benefit to the customer."
Modeling Outsourcing
To ensure this benefit not only to clients but to Indian BPOs, researchers at Carnegie Mellon University developed a capability model to answer the media outcry against outsourcing. Satyam Computer Services' BPO unit Nipuna uses the model to qualify its practices and follow industry benchmarks for quality and continuous improvement.
This is necessary, according to researchers at the university's IT Services Qualification Center, to keep and grow outsourcing relationships despite U.S. concerns about job losses. The model includes 84 best practices and is expected to be adopted not only by BPOs but by their clients so they understand the capabilities of prospective and current BPO partners.
"In a reverse trend, onshore vendors of business-process outsourcing are moving to Indian and setting up offices there to mitigate their risk in retaining and servicing customers. India's where it's at for many U.S. companies, and so U.S. vendors want to be there as well," said Efstathiou.