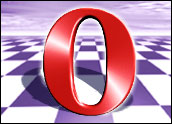 Norwegian browser developer Opera Software today released Opera 8.0 for Windows and Linux, which adds anti-phishing measures and voice recognition. The opera.com site has been flooded with attempts to download the new version, causing the company to scramble to find the bandwidth to deal with the requests.
Andy Beal, vice president, search marketing, WebSourced, told LinuxInsider he believes the biggest effect the release could have is that it could push Mozilla and Microsoft to match the anti-phishing efforts in their Foxfire and Internet Explorer browsers.
"I definitely think you'll see Mozilla and Microsoft follow suit and offer something. It's a neat feature," he said.
Certificate Checks
The anti-phishing security features works by checking and displaying the certificates of secure Web sites. Browsers can check to see if the name on the certificate matches the name of the site. It will also display where pop-up ads come from.
In phishing attacks, scammers create bogus sites that mimic those of legitimate businesses or financial institutions. A certificate that doesn't match send a warning signal to users. Opera will also rate sites with a security level of 1-3.
"It's good to see browsers taking a pro-active stance," Beal said, adding that the past attempts to thwart phishing have all been through blocking spam that might have contained bogus URLs.
Another new feature, voice activation, allows users to speak commands that Opera can then perform. It is available only in English and works with Windows 2000 and XP.
Opera is also touting what it calls ERA, extensible rendering architecture, which automatically fits Web pages to any size window. Opera 8.0 for Mac is still in beta testing.
Aiming at Students
In January, the company began offering the ad-free version of Opera to universities at no charge. It usually costs US$39. With the release of 8.0, the company will begin an educational tour, visiting campuses and talking to students about Opera's advantages and teaching them how to use its features, an Opera spokeswoman said.
Opera said it has about 1 million users previous versions of the browser, about 100,000 of those paid for the ad-free version.
The free offer to students could help Opera gain cachet, Beal said. "Targeting students is great, because students have the hip factor going for them. They're a good audience to have," he said.