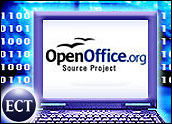 OpenOffice.org 2.0, the first release of the open-source productivity suite in two years, made its debut today, complete with major renovations.
The OpenOffice.org Project, an international community of volunteers and sponsors banded together to support and promote OpenOffice.org, is behind the software.
OpenOffice.org 2.0 touts interoperability with every major office suite, a new database module, advanced XML capabilities, and native support of the internationally standardized OpenDocument format.
Joint Effort
OpenOffice.org 2.0 is a collaborative effort between Sun Microsystems, its primary sponsor and contributor, Novell, Red Hat, Debian, Propylon and Intel, as well as independent programmers, translators, writers and marketers.
"OpenOffice.org is on a path toward being the most popular office suite the world has ever seen; providing users with safety, choice, and an opportunity to participate in one of the broadest community efforts the Internet has ever seen," said Jonathan Schwartz, president and CEO of Sun Microsystems. "As a member of that community, I'd like to offer my heartiest congratulations."
Inside OpenOffice
OpenOffice.org developers said the new software runs natively on Windows, GNU/Linux, Sun Solaris, Mac OS X, and several other platforms as part of an effort to banish software segregation and isolation and to level the playing field with rival Microsoft.
Beyond the redesigned user interface and a new database module, its developers said, OpenOffice.org 2.0 also adds improved PDF support and spreadsheet module, enhanced desktop integration and several other features that take advantage of its advanced XML capabilities, such as the ability to easily create, edit and use XForms.
The Odd Ones Out
Interarbor Solutions Principal Analyst Dana Gardner told LinuxInsider that OpenOffice.org goes well beyond the interoperability requirements for formats and documents that people have associated with Microsoft Office.
"The impressive new features remove the barrier for use of OpenOffice in association with and alongside Microsoft Office, which is very important," Gardner said. "One of the things that has held people back from getting off of Microsoft Office has been the compatibility of the file formats."
Still, even with the lowered barrier analysts do not expect the number of deployments to increase dramatically in relation to the overall market for office productivity suites. Gardner likens OpenOffice and its commercial sibling StarOffice to debutantes without a date. They are both very attractive and have sparkling new gowns, but they are still the odd ones out.
Searching for a Date
"OpenOffice still needs a major partner in order to propel it into any sort of market adoption, particularly as a services set," Gardner said, noting that Microsoft's Office 12 is set to hit the market next year.
Analysts said significant uptake of the open-source software also demands answers to consumer questions about why it makes sense to drop Microsoft Office. Developers also need to address concerns about potential productivity losses associated with migrating to OpenOffice.
"Most of the people I've spoken to in the enterprise are not interested in a rip and replace. They are more interested in finding ways to use OpenOffice to augment or as an adjunct to their use of Microsoft Office," Gardner said. "But OpenOffice still needs some partners to drive this into the market and get that chicken-egg relationship jump-started."