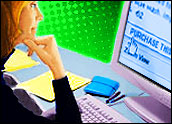 Buyers winning name brand merchandise on an auction site for a great price may not get the real deal — and that can be a big deal in terms of costs to the companies, the auction sites and the duped consumers.
Anyone buying products with brand names like Microsoft, Gucci, Nike, Canon, Nokia, Louis Vuitton, Gameboy and Disney — to name just a few — can end up with counterfeits. Consumers may be lulled into a false sense of security by a seller's high positive ratings, but they can be misleading.
Savvy sellers know how to work the feedback system, and many users avoid leaving negative feedback — even after having negative experiences — in fear of retribution that could ruin their own ratings.
Scope of the Problem
More than 3,700 counterfeit and pirated intellectual property seizures in 133 countries resulted in a loss of US$1.54 billion, according to a DOPIP Security Counterfeit Intelligence Report released byGieschen Consultancy in January.
The Net's most popular auction site, eBay, reported that approximately .01 percent of its listings were confirmed cases of fraud, according to eBay spokesperson Catherine England, but that figure doesn't account for an unknown number of unconfirmed cases.
"This can be a problem across consumer-focused retail Web sites," Jeffrey Unger, CEO ofGenuOne, told the E-Commerce Times.
GenuOne, which focuses on intellectual property and trademark issues, works with clients to create custom queries that search trade board sites and retail sites extracting product, pricing and site ownership information, he explained.
It is safe to say that fake goods find their way to virtually all of the online auction and trading sites, includinguBid,Amazon Auctions,Yahoo Auctions andAlibaba International, an online trading marketplace with almost two million users.
"We also have found that the misuse of trademarks in domain names drive unauthorized traffic to counterfeit sites," Unger noted.
Where the Buck Stops
In a pending lawsuit, Tiffany & Company accuses eBay of providing a venue for the sale of counterfeit Tiffany jewelry. eBay argues that it is not liable, though.
"eBay is a venue and is not legally responsible for the actions of individual buyers or sellers who trade on the site," England said.
The logistics of monitoring authenticity would be daunting, to say the least, given the sheer volume of listings the auction site manages — there were a record 575.4 million in the first quarter of 2006.
"Some complain that eBay does not do enough to vet its members, does not offer enough in terms of protection policies and does not keep repeat infringers off of its site," Ina Steiner, editor of AuctionBytes.com and author of Turn eBay Data into Dollars, told the E-Commerce Times.
"eBay says the rights holder should monitor listings for infringement, that it's impossible for them to be able to identify a legitimate designer item or distributor versus a fake or unauthorized distributor," Steiner said.
Possible Scenarios
The online retail industry is watching the Tiffany & Company lawsuit closely. The outcome could threaten the model of eBay and similar Web sites, or it could put the monitoring onus on the brand's copyright and trademark owners.
"If the court rules against the brand owners and determines that eBay is not liable, then this reinforces eBay's position that its role is simply to create an online marketplace," explained Unger.
Should Tiffany lose the case, the burden will clearly fall on brand owners to police Web sites for counterfeit offerings — or rely on automation from third-party services to do the job.
In the event Tiffany wins the legal battle, there undoubtedly will be many more lawsuits. That could be enough to spur online marketplaces and auction sites to find a way to monitor the millions of auctions they host for fake goods and take appropriate action.
"If the courts rule in favor of the brand owners, it essentially means that eBay is, in fact, responsible for the activity on its site, and the content and transactions between their buyers and sellers," said Unger.
Courses of Action
In the meantime, eBay has established the Verified Rights Owner (VeRO) Program to allow brand owners to report listings that infringe on their intellectual property rights.
"If a seller appears to be offering infringing goods for sale, eBay promptly ends and removes the listing from the site, notifies the seller that the listing has been removed, refunds all fees associated with that listing and reviews the seller's account for possible suspension," eBay spokesperson Catherine England told the E-Commerce Times. If eBay isn't sure whether or not an item is infringing, the company refers the suspect listing to the rights owner for a review.
Companies and individuals that don't have the manpower to police their products can rely on automated services from companies like GenuOne, Brandimensions, Cybeillance and MarkMonitor.
Yahoo Auctions provides an Auction Abuse form that lets users report any listing that abuses its guidelines and Terms of Service.
Overstock.com Auctions removes listings that violate its Prohibited Items Policy. Overstock.com also has a Content Reporting system for customers and businesses to report violations.
"uBid monitors its Web site by randomly purchasing products and verifying their authenticity. Bid4Assets has a team of account managers who regularly review auction listings and bidding activity," Steiner commented.
Most retail sites and B2B trade boards post their policies, impose strict seller requirements, monitor listings, enforce controlled payment processing and request that intellectual property owners report problem listings. "It does seem, though, that eBay has the longest-standing and most-organized program," Unger commented.