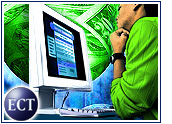 Originally published on December 9, 1999 and brought to you today as a time capsule.
---
According to a new study by
ForresterResearch
, online shoppers who visit three or four different Websites before making a purchase are younger and earn $6,000 (US$) less peryear than those who buy after visiting only one or two sites.
While the typical online shopper visits an average of 2.4 Web sites beforebuying, Forrester found that consumers who shop around more extensivelydifferfrom their counterparts in other ways as well.
Online comparison shoppers are not Web novices and have beenbuying online longer. They also spend more total hours online — 25 percentper week — than those who do less comparison shopping.
The study found that the average age of an online shopper who does littlecomparison shopping was about 41 years, compared to an average age of 38 forthosewho heavily compared prices. It also showed that of those who heavilycomparison shop,about 66 percent were female.
In addition, the average household income of someone less likely tocomparison shop is$62,975, compared to an average household income of $57,013 for someone whowill makethe rounds.
Spend More $$
Heavy comparison shoppers on average have spent nearly $400online in the past three months — 50 percent more than other onlineshoppers. They are also more sophisticated Web shoppers and are more likelyto use price-comparison search engines like MySimon.com to help find the best deal.
Nonetheless, Forrester discovered that even though some shoppers comparemore than others, what they buy also has an impact on how much time they arewilling to spend shopping around.
Less Comparison
For instance, the report found that online shoppers do little comparison onsuch items as books and CDs, because these commodity products do not varymuch in price from site to site.
However, consumers spend the most time comparison shopping for high-ticketitems like computer hardware, electronics or travel packages. Forresterfound that nearly two-thirds of consumers visit three or more sites beforemakingsuch a purchase.
Still, while books and DVD players are easily compared online, clothingis not. The report said that more than one-third of online apparel shoppersvisit only one site each time they buy clothing. In fact, most onlineshoppers buy branded clothing with little or no comparison shopping.
Intense Comparison
Forrester concludes that online comparison shopping will become even moreintense as more consumers come online and those already buying via theInternet gain more experience.
Therefore, it expects comparison-shopping engines to proliferate.
"These sites will take advantage of shoppers' moderate desire to quicklyprice-check CDs and books before buying by comparing prices and availabilityfor a basket of products across multiple merchants," the report adds.