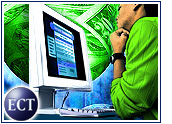 ---
Originally published on November 30, 1999 and brought to you today as a time capsule.
---
According to a just-released study by Internet marketing company
Cyber Dialogue
, the rate of new users coming to the Internet in the UnitedStates is slowing significantly.
The study concludes that e-commerce and other online businesses will now,more than ever,focus more attention upon luring visitors away from competitors andimproving customer service in order to keep them.
This data comes at a time when the U.S. Internet user market is apparentlyapproaching maturity. Online user demographics now closely match those oftelevision viewers.
Consequently, many Internet companies are looking beyond U.S. consumers tothe emerging markets of Latin America and the Asian-Pacific countries, whereInternet use is beginning to rise rapidly.
Not a Fluke
The report also claims that the decline in audience growth is not a seasonalaberration, but rather the result of a series of constraints. The reportdescribesa persistent barrier between those who can afford PCs and onlineaccess, and those who cannot.
The research identifies two other nonuser segments. The report estimatesthat about one-third of adult Americans believe that they have no need fortheInternet. There is also a growing segment of users who have tried theInternet and then discontinued using it. This segment reached 27.7 millionadults in September, up from 9.4 million in early 1997, according to thereport.
The research shows that only a third of these past users expect to goonline again any time soon.
More Competition
"Cyber marketers can no longer count on a rising tide of new users in theU.S. to float all boats," said Thomas Miller, vice president of CyberDialogue. "Some online marketers can feasibly target global markets toexpand their audience, but most must begin to shift resources to betteremphasize online customer retention, cross-selling and persuading customersto purchase more expensive products at their Web sites."
The report also suggests that successful Web sites will be those that canstimulate visitors to spend more time on the site, thereby increasing thelikelihood of a purchase and boosting the dollar amount spent.
About The Survey
The findings come from Cyber Dialogue's random, in-depthinterviews with 1,000 Internet users and 1,000 nonusers. The results weremeasured against earlier surveys that were conducted from 1995 through 1999.