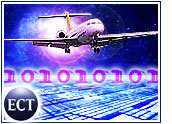 Originally published on December 10, 1999 and brought to you today as a time capsule.
---
Adding fuel to an already explosive patent dispute with
Priceline.com
(Nasdaq: PCLN), onlinetravel site
Expedia
introduced a "nameyour price" feature yesterday that will match customer requests with thelowest price tickets available from major airline carriers.
The Seattle, Washington-based Expedia — which was successfully spun off byMicrosoft last month — introduced the new service just two months after rolling out its "name your price" feature for hotel room reservations. Ensuing controversy touched off a battle with Priceline.com that culminated in a federal court lawsuit.
In that suit, Priceline claims that Expedia infringed upon the patent for its "name your price" business model. Priceline spokesperson Brian Eck told the E-Commerce Times that the company is monitoring Expedia's new application and has its legal bases covered.
"If the new application introduced by Expedia infringes on our patent,it will be covered by the existing lawsuit," Eck said. Expedia was notavailable for comment. The company has until December 20th to respond toPriceline's lawsuit.
Black Eye Affair
Copyright and patent lawsuits are on the rise in the new media andtechnology field, in large part due to gray areas in thetechnology and the competition to develop it first. Most cases, however, aresettled out of court quietly and any vitriol is saved for behind closeddoors.
This dispute, however, is shaping up to be a black eye affair. In filing the suit in October, Priceline claimed that Microsoft Chairman Bill Gates told Priceline CEO Jay Walker that he did not acknowledge patent claims and that Priceline would have to stand in line if it decided to sue Microsoft and Expedia over any future issues. Microsoft and Priceline had been negotiating about a possible investment by Microsoft in the Stamford, Connecticut-based company, but the talks deteriorated.
As a result, Expedia launched its "name your price" feature and Priceline decided to stand in line.
Drawing Lines
Eck was dismissive of Expedia's new application, claiming that "it has none of the functionality and customer friendliness of our service."
He also cited the fact that Travelocity and Preview Travel, two travel sites that are merging next year, signed a marketing alliance with Priceline yesterday.
"We find it very interesting that two leading online travel companies respect our patent system and elect to partner with us, while Expedia elects to go the route it has," Eck added.