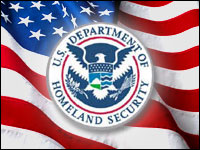 Despite strong opposition from business groups and a lawsuit, the Obama administration is making E-Verify, an online verification program, mandatory for businesses working with the federal government.
Department of Homeland Security (DHS) Secretary Janet Napolitano on Wednesday announced support for the program, which lets businesses check employees' work status online.
Implementation of E-Verify previously has been delayed four times because of a lawsuit filed against DHS in December by a group led by the U.S. Chamber of Commerce.
Objections to E-Verify include invasion of privacy; the inadequacy of the computerized program; the length and difficulty of the process; and the danger of false positives due to identity theft and errors.
About E-Verify
E-Verify is a free Web-based system operated by DHS in partnership with the Social Security Administration.
It lets employers compare information from I-9 forms against federal government databases to verify employees' eligibility for employment in the United States.
The Bush administration met with considerable opposition when it tried to extend E-Verify to federal contractors and subcontractors.
The Obama administration is now moving forward with a requirement that will take effect on September 8 and apply to federal solicitations and contract awards. It will also cover businesses that receive American Recovery and Reinvestment Act funds.
About 1,000 employers sign up for E-Verify each week, and the program now has a total of 154,000 employers signed on, according to DHS.
"E-Verify is a smart, simple and effective tool that reflects our continued commitment to working with employers to maintain a legal workforce," said Napolitano.
Treadmill Of Success?
To improve E-Verify, DHS has added processes to reduce typographical errors and initial mismatches.
E-Verify has links to naturalization database records; in February, DHS incorporated passport data from the Department of State's databases to reduce mismatches among foreign-born citizens.
Other initiatives include improving the accuracy of federal databases; adding new tools to prevent fraud, misuse and discrimination; strengthening training, monitoring and compliance; and enhancing privacy protections.
Bad Moon Rising
These initiatives make for an Orwellian future, contends Hector A. Chichoni, a partner at the law firm of Epstein Becker Green and an expert in U.S. and global immigration.
"E-Verify has information from Social Security [and] the USCIS (Customs and Immigration Service), and it may well tie up with the IRS," Chichoni told the E-Commerce Times. "We're looking at a major invasion of privacy."
The program doesn't score high marks with Chichoni for efficiency and accuracy, either. "The government says the program is what, 94 to 96 percent accurate, but that's still a lot of false positives," he said. "E-Verify cannot verify accurately whether a document is fraudulent or not."
Against the Law?
In December, the U.S. Chamber of Commerce led a group filing a lawsuit over E-Verify against the DHS in the District Court of Maryland.
The suit was filed in response to an executive order President Bush signed in June 2008 making E-Verify's use mandatory for federal contractors and subcontractors. It contends that it's illegal for the DHS to make use of E-Verify mandatory.
The other plaintiffs include the Associated Builders and Contractors (ABC); the Society for Human Resources Management (SHRM): the American Council on International Personnel; and the HR Policy Association.
Wednesday's decision by the Obama administration to move forward has drawn criticism from the Associated Builders and Contractors and SHRM.
"ABC continues to believe that unless and until the enabling statute is changed, the president does not have the authority to mandate the use of E-Verify by any employer, which was the legal basis of the U.S. Chamber's lawsuit in which we joined," Robert Hirsch, ABC's director of legal and regulatory affairs, told the E-Commerce Times. "We also continue to have concerns about the functionality of E-Verify and its accuracy."
The biggest problem with E-Verify is that it is undermined by identity theft, said Mike Aitken, director of government affairs at SHRM. "It has a lot of false positives because of this, and that undermines the credibility of the system," he told the E-Commerce Times.
Another objection to E-Verify is the cost of implementation for businesses. "All federal contractors who get a contract have to verify new hires and reverify existing employees," Aitken said.
Because it's difficult to distinguish who is working on a particular contract and who is not, for all practical purposes that means contractors will have to verify their entire workforce, he pointed out. "That would be a very expensive proposition."
That's disputed by DHS spokesperson Matt Chandler.
"It's about I-9 data, which is existing data that companies already have on record," Chandler told the E-Commerce Times. "Everyone who has a job in the United States has to fill out an I-9, and access to E-Verify online is free."
The lawsuit against DHS is pending, with a hearing set for August 15.