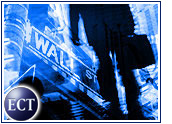 Nortel Networks (NYSE: NT)dropped 69 U.S. cents to $14.53 in morning trading Friday, after theCanadian telecommunications company said it is beginning the search for asuccessor to its chief executive officer John Roth, who plans to retire next year.
Nortel also said its chief operating officer willnot return after a medical leave is up. COO Clarence J. Chandran began an expected 6- to 12-month medical leave in March to recuperate from surgery for injuriessustained in a 1997 stabbing attack in Singapore. Chandran said Friday thathis doctors told him he needed more time to recover, and he decided the"responsible course" of action would be to resign.
President and CEO Roth said he plans to retire inApril 2002 and the company will "immediately" begin a search for a new CEO.Roth has been handling day-to-day operations since Chandran began his leave.
"Since Clarence is no longer available in our succession planning, I'll beworking with our board of directors to undertake a search for my successor,"said Roth. "Our priority is to have my successor in place well before Iretire to ensure a smooth and orderly transition."
Chandran's departure comes as Nortel struggles to deal with a sluggisheconomy. In April, the company reported a quarterly loss and said it would reduce its workforce by 20,000 betweenthe end of last year and the middle of this year.
Nortel, based in Toronto, Canada, posted a net loss of $2.58 billion, or82 cents per share, in the first quarter ended March 31st. Revenue slippedto $6.18 billion from $6.32 billion in the same period last year.
"The lack of available funding from the capital markets, high debt levels atmany service providers and the compounding effect of the U.S. economicdownturn and its impact on other regions will continue to constrain capitalspending by service providers," Roth said at the time.