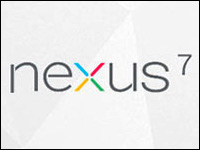 Google's battle with Apple continues, and this week the website iFixit conducted a teardown of the new Nexus 7 tablet and found it to be more repairable than Apple's iPad.
The site, which regularly takes apart high-tech and potentially expensive gizmos and gadgets, noted that the Nexus shell came apart quite easily, allowing it to be opened and serviced. The Nexus could be repaired, and thus have its life extended, the site concluded.
The naming of the device isn't lost on science fiction fans, who may remember that in the film Blade Runner, the android villains were Nexus 6 models, with a limited lifespan. Depending on which of the many cuts of the film you trust, it is possible that Rick Deckard — played by Harrison Ford — could be a Nexus 7, with a longer, even unknown, lifespan.
"While we're not keen on speculating how much all the components cost — they differ in price depending on the manufacturer's negotiations with component suppliers — I can tell you this: The Nexus 7 doesn't really skimp on the internal construction when compared to other tablets," iFixit spokesperson Miroslav Djuric told the E-Commerce Times. "It does have some cost-savers — such as no rear camera, just like the Kindle Fire — but for the most part, it rivals its competitors in terms of features, and it doesn't make structural internal compromises to achieve the (US)$200 price point."
Google's Tablet Goals
The company that started out in the search business has entered other arenas very successfully, and the Nexus 7 is just the latest example. That success sometimes has come at a cost, though — or at least the absence of huge profits out of the gate. In fact, this tablet could be an example of trying to capture the market while simply not losing a ton of money.
"Whether Google/Asus is making money, losing money, or breaking even is only truly known by folks within those companies," added Djuric. "However it's my opinion that if they're making money, it's probably not a huge amount per unit."
However, making money isn't as important as capturing the market, and Google knows this as well as any company.
"At Google, they tend to do the product first and figure out the revenue later," said Rob Enderle, principal analyst at the Enderle Group. "They should get a percentage off of app sales and clearly will get money from the ads consumed with the device. But they don't have the retail engine Amazon has, so much of the revenue for this device will be developed over time."
Google Targets: Apple or Amazon
The other big question is whether Google is looking to gain headway into the market against Apple with its iPad, or against Amazon with its own Kindle Fire tablets. Or could it be testing the water?
"These devices — the Fire and the Nexus 7 — are portals, and both firms have destination sites that generate money," Enderle told the E-Commerce Times. "Google's is their search window and app store — at least for paid apps, which haven't been a strength yet. It likely anticipates a more robust retail back end over time, or fees to other firms' online properties."
So, could Google hope to offer the same selection of multimedia and physical goods sales as Kindle Fire? Or could the company look to generate revenue from apps and advertising? Or a combination of the above?
"Yes, and it can with folks that build clients for the platform," said Enderle.
These could include such firms as Netflix and Slacker — but the trick, Enderle added, will be monetizing it.
"But then that is always the trick with Google," he noted. "This 'develop first, monetize later' approach common to the dot-com era has its risks, but as long as they sell at or above cost their risks are minor. Even with robust sales, it is unlikely this device can hurt margins that much unless they don't sell."
However, there are problems with the at-cost, revenue later model, including the fact there really is no marketing budget, which means that except for the initial buzz, a product could suffer against better-funded offerings from Amazon and Apple.
"Cheap helps," said Enderle, "but you still have to market the device, and at-cost doesn't toss off cash for marketing."