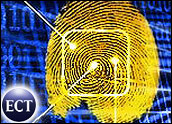 ---
Stay on top of the fast-moving world of network security with ECT News Network's daily roundup of breaking news.
---
TechNewsWorld: Identity Theft Countermeasures07-Oct-03 4:13 ET
Story Highlights:"The Federal Trade Commission announced in September that 27.3 million Americans have fallen victim to identity theft in the past five years. About half of those thefts took place last year. The prominence of the Internet is often blamed for the increase in the number of identity thefts. But that view of the Internet as a wasteland filled with digital highway robbers is greatly exaggerated."
---
The E-Commerce Times: NetScreen Nabs Neoteris in $265M Deal
06-Oct-03 17:18 ET
Story Highlights:"In a deal that could help reshape a growing segment of the network security space, NetScreen Technologies plans to buy SSL virtual private network firm Neoteris for $265 million in stock and cash."
Full Story on the E-Commerce Times
---
The New York Times: Stolen Video Game Source Code Circulating
07-Oct-03 8:32 ET
Story Highlights:"Stolen copies of the source code of a highly anticipated computer game are circulating on the Internet, a sign of the video game industry's growing value — and vulnerability. The digital blueprint of 'Half-Life 2,' a sequel to a popular first-person shooter game slated to be released this holiday season, began circulating on Web chat channels late Thursday."
Full Story on The New York Times
---
New Zealand Herald: Microsoft Faces Virus Class Action
07-Oct-03 4:54 ET
Story Highlights:"Microsoft faces a proposed class-action lawsuit in California based on the claim that its market-dominant software is vulnerable to viruses capable of triggering 'massive, cascading failures' in global computer networks."
Full Story on the New Zealand Herald
---
For more of the latest e-business and technology news from around the world, updated 24 hours a day, visit
TechNewsWorld.com
.