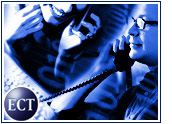 ---
Stay on top of the fast-moving world of network security with ECT News Network's daily roundup of breaking news.
---
CRM Buyer: Hacking the Call Center14-Oct-03 7:03 ET
Story Highlights:"Every corporate IT department faces its share of security threats from the outside world. But contact centers face double the danger, because when you combine low pay and an employment revolving door with easy access to sensitive customer information, you have a potentially explosive situation. Despite these risks, the contact-center industry in general has been slow to beef up its security standards. Will that change in the near future, or will contact centers remain security red-alert zones?"
---
TechNewsWorld: BEA Fills the Gap in Application Security
13-Oct-03 15:13 ET
Story Highlights:"BEA Systems has announced it is addressing a major IT challenge with BEA WebLogic Enterprise Security, an application-security infrastructure system. By incorporating its application-infrastructure expertise into the new software, the company is aiming to help enterprises strengthen application security, enable secure information access and improve IT efficiency."
---
Wired News: Microsoft Toughens Up Outlook
14-Oct-03 5:00 ET
Story Highlights:"A new version of Microsoft Outlook makes it harder for spammers and scammers to invade users' computers through their e-mail. The software, available at the end of October with the release of Microsoft Office 2003, boasts more-aggressive security features, more options to disable malicious or snoopy code embedded in e-mails and attachments, and additional ways to block spam and other unwanted e-mail."
---
CNET: Study: Thriving Internet Blighted by Bugs
13-Oct-03 14:45 ET
Story Highlights:"Internet usage has jumped in the last year, but digital threats — such as junk e-mail and e-commerce fraud — continue to overshadow those gains, VeriSign announced on Monday. Several measures of network traffic show an increase, according to a survey by VeriSign that looked at data generated by its Internet operations."
---
For more of the latest e-business and technology news from around the world, updated 24 hours a day, visit
TechNewsWorld.com
.