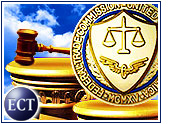 ---
Stay on top of the fast-moving world of network security with ECT News Network's daily roundup of breaking news.
---
DC.Internet.com: FTC Shutters Scam Green Card Sites10-Oct-03 14:12 ET
Story Highlights:"The U.S. District Court for the District of Columbia has granted the Federal Trade Commission's (FTC) request for a temporary restraining order to close eight Internet sites allegedly misleading consumers into believing the sites, for a fee, could help consumers register for the State Department's annual Diversity Visa (DV) lottery for a chance to apply for a permanent resident visa widely known as a green card."
---
The New York Times: Computer Viruses Are Frustrating Insurers, Too
12-Oct-03 6:12 ET
Story Highlights:"On Oct. 8, 1871, so the story goes, Catherine O'Leary's cow knocked over a lantern and started the Chicago fire that destroyed roughly half the city. A modern version of that disaster might be a worldwide electronic meltdown started by a single computer virus. Despite the potential losses, companies are not buying insurance against electronic sabotage, in many cases because they are not aware that their existing policies do not cover it."
Full Story on The New York Times
---
New Scientist: 'Subversive' Code Could Kill Off Software Piracy
10-Oct-03 10:28 ET
Story Highlights:"Software pirates who make illegal copies of a particular computer game are finding the games companies are coming up with a radical new anti-copying strategy. Illegally copied games protected by the system work properly at first, but start to fall apart after the player has had just enough time to get hooked. As a result, the pirated discs actually encourage people to buy the genuine software, the developers say."
---
SecurityFocus: CCIA Report Is Bad Medicine
13-Oct-03 8:00 ET
Story Highlights:"A recently published report from the Computer and Communications Industry Association (CCIA) claims that "Microsoft's monopoly of the desktop operating system market is a threat to our national security." The paper has understandably created quite a bit of fuss — so much, in fact, that Daniel Geer, former CTO of @Stake, reportedly received the aforementioned designation of "former" as a result of his co-authoring the paper. While I do not dispute the individual talents of Geer and the other authors of the paper (folks like Bruce Schneier and Charles Pfleeger), I do dispute some of the conclusions they arrived at — basically, because I think they are wrong."
---
For more of the latest e-business and technology news from around the world, updated 24 hours a day, visit
TechNewsWorld.com
.