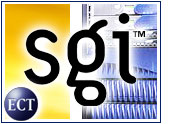 Silicon Graphics today announced that NASA has chosen SGI's Altix as the foundation of Project Columbia, a collaboration with SGI and Intel that is expected to fuel scientific breakthroughs in space exploration, global warming research and aerospace engineering.
With Project Columbia, NASA plans to integrate a total of 20 512-processor SGI Altix systems with 500-terabyte SGI InfiniteStorage hardware to create the Space Exploration Simulator, which will be among the world's largest Linux-based supercomputers.
Powered by a total of 10,240 Intel Itanium 2 processors, the Space Exploration Simulator will equip NASA scientists with one of the most sophisticated and capable supercomputers in history.
"For over 20 years NASA and SGI have worked very closely and very successfully to deliver a series of technological firsts," said G. Scott Hubbard, NASA Ames Director. "Project Columbia will build on the knowledge we gained from this close relationship to underpin the most ambitious missions in NASA's history. As we set our sights to the Vision for Space Exploration, we look forward to making the journey with SGI and Intel."
SGI has already delivered the first three of the new Altix systems to NASA Ames, with the entire 10,240 Itanium 2 processor-based supercomputing array to be completed over the next several months.