The 2009 Consumer Electronics Show (CES) promises plenty in the gadget department, as usual, and Motorola unveiled three new handsets on Tuesday that it hopes will capture the imagination of attendees. The device maker introduced the environmentally friendly Moto W233 Renew, the Motosurf A3100 touch tablet and the rugged Tundra VA76r.
While CES will not officially open until Thursday, Motorola has signaled which market segment baskets it will place its eggs in for 2009, said Ramon Llamas, an analyst at IDC.
"Everybody is expecting a downturn in the market. We know that Motorola is in the process of realigning their business. My question is how these devices are preparing Motorola to meet the challenges of 2009," he told TechNewsWorld. "Shows like CES and Mobile World Congress — this is the time to tout your big devices and tell the market that this is where you're placing your bets.
Motorola is going for the eco-conscious with the Renew, multitaskers with the A3100 and industrial users with the Tundra. These will be the three segments that Motorola will try to exploit this year, Llamas continued.
Saving the Earth
Sure to garner a lot of attention, the Moto W233 Renew is the first handset with a housing made entirely from recycled plastic water bottles — and it is 100 percent recyclable.

For the environmentally conscious handset owner, Motorola has gone even further to reduce the carbon footprint of the device through a partnership with Carbonfund.org.
The handset maker will offset the carbon dioxide required to manufacture, distribute and operate the phone through investments in renewable energy sources and reforestation.
Available in eco-friendly green, the W233 Renew is just over one-half inch thick, 4.37-inches long and less than 2-inches wide. It weighs in at 2.93 ounces and has a 1.6-inch screen. The handset includes up to 2 GB of optional removable memory, a music player, and up to 9 hours of talk time. The device will be available in the first quarter of 2009 in the U.S. via T-Mobile. No pricing information was provided.
"The W233 sounds like a gimmick. It makes for good PR, but I doubt that the use of recycled water bottles will ensure its commercial success. It strikes me as a way to pre-empt accusations of a lack of environmental sensitivity," said Bill Hughes, an In-Stat analyst.
Managing Your Life
For on-the-go consumers who want a device that will help them manage both their social and work lives, Motorola offers up the Motosurf A3100.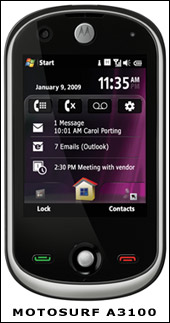 Dubbed a "touch tablet," the handset runs the Windows Mobile 6.1 operating system and includes a customizable home screen. Applications can be accessed with a touch of the finger, stylus or omnidirectional trackball.
The handset also includes home screen icons that can be personalized for live weather and news feeds, personal and work e-mail, messaging and calendar events. The A3100 will be available in multiple regions, including Asia and Latin America, in the first quarter of 2009. No pricing information was provided.
"The A3100 does sound interesting. It looks like it is Motorola's answer to the iPhone, although they will bristle at that comparison. I am glad to see Motorola come out with a new Windows Mobile Device. The downside is that Windows Mobile does not support all the input options that the iPhone does at the moment. I do not know, but I suspect that there is the hardware to add more capabilities when the OS supports it. I cannot tell from a spec sheet though," Hughes told TechNewsWorld.
Toughing It Out
With the third handset, the Tundra VA76r, Motorola offers a rugged, durable clamshell device for users who work in tough, industrial environments. Available through AT&T on Jan. 13 for US$199.99 — after a $50 mail-in-rebate and with a two-year contract — the handset includes optional workforce management tools, navigation capabilities, and Web access via the carrier's 3G network and AT&T Mobility's Push to Talk service.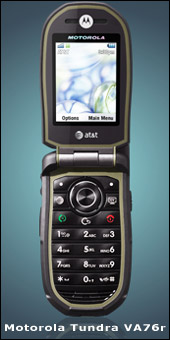 The device also includes Motorola's CrystalTalk Plus with dual microphone technology, voice activation, phonebook locking for call restrictions, a rugged antenna, and keys users can press even while sporting a pair of work gloves. The handset has 100 MB of available memory with up to 4 GB of optional removable memory.
"The Tundra strikes me as a device to begin to compete against Sprint's Nextel [Direct Connect], and to a lesser degree Verizon. Verizon and AT&T suffer from the same lack of critical mass of users," Hughes noted.
However, the longevity of the device is questionable, said IDC's Llamas, given that Motorola's head, Sanjay Jha, announced last fall that the company would focus on its proprietary P2K operating system, along with Windows Mobile and Android.
"The one I have questions about is the Tundra because it's running on Motorola's Motomagic OS. I wonder what the shelf life for the Tundra will be. It will depend on how far into development it was before Sanjay made his announcement in October," he said.