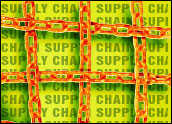 There is a near-universal desire among firms to link all aspects of their supply chain — including the customer front end — on one platform. However, there are relatively few applications on the market today that address that demand.
ModusLink hopes to fill that void with its newly launched e-business suite.
Digital Fulfillment as Demand Driver
The suite's set of modules include features that facilitate online sales, order management, product fulfillment and returns. Many vendors purport to offer such functionality, but few firms have actually been able to link all of these elements on one platform, AMR Research Analyst Mickey North Rizza told CRM Buyer.
"That is their competitive differentiator," she told CRM Buyer. "They offer an e-commerce suite that links the physical side of a fulfillment operation with the electronic side — such as online returns or a Web store — as well as the financial service end. Users can look at their supply chain from end to end."
Demand for such functionality is increasing rapidly as companies shift their customer-facing front ends to the Web.
"One of the factors that drove us to developing an integrated solution is that we are seeing increased demand for digital fulfillment," for example, buying music or software over the Internet, ModusLink Global Product Director Glenn Grube told CRM Buyer.
Modular Organization
The modules in ModusLink's e-business package can be deployed as a suite or as standalone applications:
ModusLink Commerce — an e-commerce offering with Web store. Features include site/infrastructure development and hosting; multilingual and localization capabilities; sales, marketing promotion and customer loyalty tools; content, catalog and product management; flexible pricing and order processing; customer self-service options; and order tracking, reporting and analysis.
ModusLink Store — a plug-and-play e-store. This is a scaled-down version of ModusLink Commerce that also offers some CRM, financial and account management services. Its key advantage is that it was designed to be deployed within weeks, Grube said.
ModusLink Live — a CRM application that includes service, support and account management features, as well as intelligence analysis and reporting. There is also a multilingual contact center for sales and support, along with self-service options such as Initial Voice Recognition (IVR) and speech recognition services.
ModusLink Engine — a turnkey financial management system linking order transactions, customer support and account management. Features include multicurrency global payment processing; support for several payment types; fraud detection; tax and VAT (value-added tax) management and compliance; and cash and revenue reporting.
ModusLink Returns — an application to manage the returned merchandise authorization process. It encompasses returns handling processes, including swap, advance replacement, dead on arrival (DOA) and shipping, all of which are configurable and can be integrated into forward supply chain activities.
ModusLink Auctions — a B2B (business-to-business) private marketplace and online auction portal for excess or refurbished inventory asset disposition. Options allow the user to auction goods through a white label program to prevent competition with channel partners.