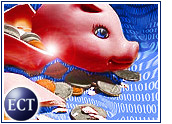 Modem Media (Nasdaq: MMPT) fell to US$3.91, down 47 cents, in morning trading Thursday after the Internet consultant said it will lay off about 10 percent of its employees, close its Tokyo office and take a pretax charge of about $3 million to first-quarter earnings.
"Over the last few weeks, we completed a comprehensive review of the operating structure of the company, and it is clear that these incremental actions will only further strengthen our business," said chief executive officer Marc Particelli.
The restructuring, which includes the transfer of Tokyo's remaining clients to Modem Media's Hong Kong office and a "realignment of capacity across multiple offices," will reduce operating expenses by about $5 million this year, the company said.
Shutdown of the Tokyo office and transition of its remaining clients to the company's Hong Kong office are expected to take place in the second quarter of 2001.
As a result of these actions, Modem Media expects to take a one-time, pretax charge of approximately $3 million in the first quarter of 2001 and reduce its ongoing operating expenses by approximately $5 million in 2001.
"While performance in our Tokyo office had been improving recently, that improvement and the prospects for the business were insufficient to keep the office open," Particelli said. "We expect to continue to support the needs of our global clients in the Japan market through other offices and local alliances."
Earlier this week, Modem Media said it would delay reporting fourth-quarter and full-year 2000 financial results in order to complete its analysis of its financial statements. Particelli said officials will provide more details about the outlook for business when the results are released.
Modem Media, based in Norwalk, Connecticut, has offices in New York City; San Francisco, California; Toronto, Canada; London; Paris; Munich, Germany; Hong Kong; and Sao Paulo, Brazil.