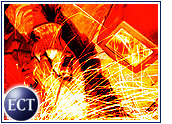 After a brief round of profit-taking at the opening bell, tech stocks reversed course during midday trading Wednesday and pulled ahead, despite a stream of discouraging corporate earnings results.
The Nasdaq Composite Index climbed 21.96 to 2,107.54 at midday, while the E-Commerce Times Index was up 0.26 percent at midday. Losses in Cyberian Outpost (Nasdaq: COOL), eBay (Nasdaq: eBAY) and Barnesandnoble.com (Nasdaq: BNBN) were offset by gains in Travelocity (Nasdaq: TVLV) and Amazon (Nasdaq: AMZN).
Helping propel the market gains was new data issued by the U.S. Department of Labor that showed the nation's consumer prices rose more moderately than expected last month, easing some concern about the risk of inflation in the nation's economy.
The government report said the April Consumer Price Index (CPI), a key inflation indicator, inched up 0.3 percent after a 0.1 percent gain in March. Analysts had expected the overall CPI index to climb 0.4 percent in April.
Bullish investors also seemed to be betting that the U.S. Federal Reserve's latest interest-rate cut would spark the slumping economy.
At midday, the Standard & Poor's 500 stock index had risen 12.26 to 1,261.70. The Dow Jones Industrial Average also powered ahead 128.11 to 11,001.08, piercing the 11,000 mark for the first time in three months.
Mixed Results
Despite the market's strong performance, a flurry of technology issues have posted dampened results and mixed guidance since Tuesday.
Semiconductor equipment giant Applied Materials (Nasdaq: AMAT) advanced 54 U.S. cents to $50.43 in midday trading, despite reporting that its second-quarter profit plunged. The company said slumping demand for its chip products and reduced spending by manufacturers in the sector caused the drop.
Sycamore Networks (Nasdaq: SCMR), dropped 25 cents to $9.07. The maker of optical networking equipment missed forecasts by a penny per share in reporting a fiscal third-quarter loss and warned of revenue weakness in the current quarter.
Network Appliance Tumbles
Network Appliance (Nasdaq: NTAP) lost $1.12, or 4.97 percent, to $21.41 after the company reported that fiscal fourth-quarter profit plummeted 98 percent, as economic weakness continues to spread to corporate investment in the computer data-storage storage market.
However, Brocade Communications Systems (Nasdaq: BRCD) advanced $1.90, or 4.47 percent, to $44.40 after the networking products manufacturer said its second-quarter profit matched Wall Street's expectations.