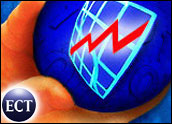 Nasdaq stocks were rising for a second consecutive session Monday, as strength in the technology sector pushed the benchmark Nasdaq Composite Index up 75.78 to 2,151.46 by midday.
Top Nasdaq gainers included Cisco (Nasdaq: CSCO), up US$1.67 to $17.27, Oracle (Nasdaq: ORCL), up 53 cents at $17.68, and Sun Microsystems (Nasdaq: SUNW), up 36 cents at $17.74.
Another big winner was chipmaker PMC Sierra (Nasdaq: PMCS), which rose $5.71 to $43.66 after announcing a new line of products.
AOL Time Warner (NYSE: AOL) rose $1.96 to $51.95 by midday, following reports that it is in talks to form a broadband cable alliance in Europe, possibly with NTL of the UK.
Income, Spending Up
The day's economic news was upbeat for the most part, with a U.S. Department of Commerce report showing that American incomes and spending rose 0.3 percent in March, and a Chicago area manufacturer group reporting a slight pickup in activity in April.
The news followed a government report Friday showing that the U.S. economy grew at a faster-than-expected rate in the first quarter, further fueling hopes for a recovery in corporate profits.
Other market measures were also headed higher at midday. The Standard & Poor's 500 stock index was up 13.10 at 1,266.15, and the Dow Jones Industrial Average was 59.79 higher at 10,869.84.
E-Commerce Gains
The E-Commerce Times Index was up 5.6 percent at midday, paced by Amazon.com (Nasdaq: AMZN), up $1.10 at $16.37, and eBay (Nasdaq: EBAY), up $4.94 at $51.81.
E-commerce software maker BroadVision(Nasdaq: BVSN) gained 95 cents to $6.46 after announcing that retail giant Wal-Mart Stores (NYSE: WMT) will use BroadVision's products across its Web sites and Internet-based systems.
Internet postage company Stamps.com (Nasdaq: STMP) was up a penny at $3.03, after announcing that it bought the domain name, URL and various patents belonging to former competitor E-Stamp for an undisclosed price.
The Santa Monica, California-based company said it wants to "solidify its leadership" of the small-business and home-office mailing and shipping market.
Mopey Monday
Among the day's tech losers were telecommunications software maker Comverse Technology (Nasdaq: CMVT), which fell $1.06 to $69.05 after announcing plans to cut 6 percent of its workforce, and Computer Associates (NYSE: CA), which dropped $4.25 to $31.
A Sunday report in the New York Times — disputed by Computer Associates — said that the company might have used accounting gimmicks to overstate revenue and profits.