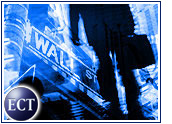 A rally in chip stocks pushed technology issues higher for a third straight session on Wednesday, with the Nasdaq Composite Index up 43.47 at 1,895.50 by midday.
With earnings reports beginning to trickle in, investors were buying shares of companies that have seen their stocks plunge in recent months. The index was backsliding, however, from an early morning high of 1,948.08.
Salomon Smith Barney reportedly upgraded semiconductor stocks as a group to outperform, saying that it expects business to pick up for the companies, which have seen orders and shipments fall.
The news sent Intel (Nasdaq: INTC) up US$2.73 to $27.50, Micron Technology (NYSE: MU) up $4.10 to $42.25, and Texas Instruments (NYSE: TXN) up $3.80 to $33.40.
Motorola Gains Despite Q1
Motorola (NYSE: MOT) rose 33 cents to $13.33 despite reporting a first-quarter operating loss that fell at the low end of analyst expectations.
The company said it expects a loss in the second quarter as well, with "a gradual upturn in sales and profitability" in the second half of the year.
Blue chips and other issues, meanwhile, moved lower. The Dow Jones Industrial Average was down 98.71 at 10,004.03, and the Standard & Poor's 500 stock index was down 5.16 at 1,163.22.
E*Trade, Amazon Higher
The E-Commerce Times Index was up 2.9 percent at midday. Among index members, online brokerage E*Trade (NYSE: ET) advanced 31 cents to $7.86 after reporting first-quarter results that matched analyst expectations.
E*Trade said that income from ongoing operations broke even in the quarter ended March 31st, though revenue slipped from a year earlier. The company also expanded its alliance with Target Stores, announcing plans for new automated teller machines and service centers in retail outlets nationwide.
Amazon.com (Nasdaq: AMZN) rose 49 cents to $12.50 by midday, following news that it plans to take over the online operations of brick-and-click bookseller Borders Group (NYSE: BGP). The alliance is similar to one Amazon forged in August with Toys 'R' Us.
Autoweb Rises on Buyout
Online car site Autoweb (Nasdaq: AWEB) rose 7 cents to 36 cents after competitor Autobytel (Nasdaq: ABTL) said it would buy the company for 53 cents per share in stock, or a total of $15 million. Autobytel fell 9 cents to $1.40.
Yahoo! (Nasdaq: YHOO), which is scheduled to report quarterly results after the close of trading, was up 33 cents at $16.35. Analysts expect the company to break even for the quarter ended March 31st.