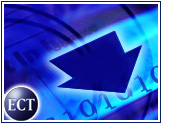 Nasdaq stocks turned lower by midday Thursday, after having surged in morning trading following reports of bullish comments on the semiconductor industry fromMorgan Stanley and a surprise interest-rate cut from the European Central Bank.
At midday, the Nasdaq Composite Index was down 1.27 at 2,155.36, as Cisco(Nasdaq: CSCO), Intel (Nasdaq: INTC) and Oracle (Nasdaq: ORCL) allretreated.
Cisco, the most active Nasdaq stock, turned lower at midday after tradinghigher all morning. The company, which took a pounding Wednesday afterhaving reported a big quarterly loss, announced an expanded agreement with AOLTime Warner (NYSE: AOL) on Thursday. At midday, Cisco was down 3 cents at $19.10.
Intel slipped 65 cents to $29.28 and Oracle dropped 14 cents to$16.62.
Early Surge
Stocks rose at the opening bell, following reports that the EuropeanCentral Bank lowered its key interest rate by a quarter point, to 4.5 percent,amid signs of economic weakness.
The U.S. Department of Labor, meanwhile,said the number of workers filing new claims for unemployment insurance fell by 41,000 last week.
Tech stocks received an added lift from reports that Morgan Stanley raisedits investment rating on six semiconductor stocks, saying they appear poisedfor a rebound.
Among stocks on the list were Applied Materials (Nasdaq: AMAT), up $1.52 at $52.56, KLA-Tencor (Nasdaq: KLAC), up $2.47 at $52, and Lam Research(Nasdaq: LRCX), which rose $2.32 to $30.30. Analyst Jay Deahna reportedly expects the stocks to gain 40 percent in the next 12 to 18 months.
Blue Chips Hold Gains
Other indexes managed to hold their morning gains. The Dow Jones was up50.42 at 10,917.40 at midday and the Standard & Poor's 500 stock index wasup 3.24 at 1,258.78.
The E-Commerce TimesIndex of 15 top e-tailers was up 1.1 percent at midday. eBay (Nasdaq:EBAY) was up $1.31 at $54.45, E*Trade (NYSE: ET) was up 8 cents at$9.27, and Barnesandnoble.com (Nasdaq: BNBN) was up 5 cents at $2.02.
ICG, Digital Island Rise
Elsewhere in the e-business sector, incubator Internet Capital Group (Nasdaq:ICGE) picked up 24 cents to $3.36, despite reporting a quarterly loss.
The company said it achieved its goals in the first quarter ended March 31st,ending the period with $264 million in cash, short-term investments andmarketable securities.
Internet Capital said its previously announced plan to concentrate on key partner companies withpotential for growth is producing results.
Digital Island (Nasdaq: ISLD) rose $1.62 to $3.62, after announcing a deal todeliver all the online advertisements for Microsoft (Nasdaq: MSFT) MSN properties, including Hotmail and Instant Messenger.