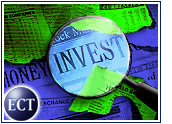 Rallies in Dell Computer (Nasdaq: DELL) and Yahoo! (Nasdaq: YHOO) sentstocks surging on Thursday, as buyers stepped in to take advantage ofbottom-level prices for technology issues.
The Nasdaq Composite Index was up 92.50 at 1,731.30 at midday, and theStandard & Poor's 500 stock index was up 27.24 at 1,130.49. The Dow JonesIndustrial Average was ahead 243.58 at 9,759.00.
Dell rose US$2.69 to $24.89 after reaffirming its outlook for the first quarter ending May 4th. The company said it is outperforming the overallcomputer industry, and expects revenue of $18 billion and earnings of 17 cents per share for the period.
However, Dell executives cautioned that there arefour weeks left in the quarter, and the market remains "unpredictable."
Bottom's Up
Yahoo! gained $2.56 to $15 after Lehman Brothers analyst Holly Beckerupgraded it to buy from market perform, saying "the worst is over" for thestock, which has fallen more than 90 percent over the past year. Becker puta 12-month price target of $20 on Yahoo! shares.
Cisco Systems (Nasdaq: CSCO), up 87 cents at $14.56, was the most heavilytraded issue on Nasdaq. The network equipment maker will reportedly stopmanufacturing a slow-selling router and shift its attention to moreprofitable markets.
E-Commerce Gains
The E-Commerce TimesIndex was up more than 7 percent at midday, with Barnesandnoble.com(Nasdaq: BNBN) up 6 cents at $1.03 and Amazon.com (Nasdaq: AMZN) up 51 centsat $8.91.
Barnesandnoble.com said it increased its stake in Enews, a companythat sells magazine subscriptions over the Internet. The online booksellerand its brick-and-mortar affiliate, Barnes & Noble (NYSE: BKS) now own amajority stake in Enews.
eBay (Nasdaq: EBAY) was up $3.68 at $34.06, and E*Trade (NYSE: ET) was up 54cents at $6.10.
Warnings Continue
While warnings about weak results continued to trickle in, companies thatcame forward Thursday with lowered outlooks did not see their sharespunished.
Akamai Technologies (Nasdaq: AKAM) managed to gain 31 cents to $6.31 evenafter saying first-quarter revenue will be below earlier expectations and announcing plans to cut jobs. The Internet content provider also said that itsloss before interest, taxes, depreciation and amortization will be smallerthan previously thought, and that it expects to break even a quarter earlier thanexpected.
WebMethods (Nasdaq: WEBM) was up 38 cents at $17.38, and Emulex (Nasdaq:EMLX) was ahead $3.31 at $15.81 despite reports of lowered forecasts.
Critical Path (Nasdaq: CPTH), meanwhile, fell 25 cents to $1.28 afterrestating results for the third and fourth quarters of last year.