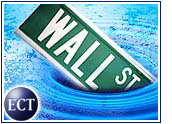 Falling technology stocks were pulling the Nasdaq Composite Index lower Monday, as analyst warnings about bellwethers Oracle (Nasdaq: ORCL) and Intel (Nasdaq: INTC) fueled fears about a prolonged slowdown in demand even with lower interest rates.
At midday, the Nasdaq was down 96.49 at 2,066.92.
Cisco Systems (Nasdaq: CSCO), the most active stock in the index, was down US$1.88 at $17.27. A group of shareholders filed suit against the company, alleging that management "misconduct" caused a drop of more than $400 billion in market capitalization.
Oracle was down $2.32 at $17.43 after Lehman Brothers downgraded the stock to buy from strong buy. Lehman Brothers analyst Neil Herman wrote that a weak economy could hurt Oracle in what is traditionally a strong quarter.
Herman also said troubles at Sun Microsystems (Nasdaq: SUNW) put added pressure on Oracle, because Oracle software powers many of Sun's servers. Sun, down $2.18 at $17.53, has already warned that a slowing economy will hurt results.
Intel Sinks on Downgrade
Intel was down $1.92 at $30.51, following reports that Merrill Lynch downgraded the stock, along with that of three other chipmakers, saying that the recent rally in the sector has increased the risks associated with owning the stocks.
Merrill reportedly also lowered its ratings on Applied Micro Circuits (Nasdaq: AMCC), PMC-Sierra (Nasdaq: PMCS) and Vitesse Semiconductor (Nasdaq: VTSS).
Rally Short-Lived
Last week, a Wednesday rate cut from the Federal Reserve sent Nasdaq stocks surging. The rally continued through Thursday, but petered out on Friday as fears about a prolonged slowdown persisted.
The pessimism spilled over Monday into other major indexes as well. The Standard & Poor's 500 stock index was down 20.63 at 1,222.35, and the Dow Jones Industrial Average was down 85.69 at 10,494.16.
E-Commerce Stocks Mixed
The E-Commerce Times Index was down 3.23 percent at midday. eBay (Nasdaq: EBAY) was down $2.36 at $48.29 and E*Trade (NYSE: ET) was down 55 cents at $9.
On the bright side, Amazon.com (Nasdaq: AMZN) was up 29 cents at $16.06, following reports of an upgrade at Deutsche Banc Alex. Brown. The firm reportedly raised Amazon to buy from market perform, saying that the company is successfully positioning itself as a provider of e-commerce services.
Amazon is scheduled to report quarterly results Tuesday.