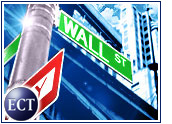 Nasdaq stocks were mostly lower at midday Monday amid reports that anexpected rate cut from the Federal Reserve might not be as big as some investors had hoped.
The Nasdaq Composite Index was down 34.48 at 2,072.95, led by declines inbig-name technology issues. Cisco (Nasdaq: CSCO), the most active stock onthe Nasdaq, was down 65 U.S. cents at $18.40. Intel (Nasdaq: INTC) was next,dropping 55 cents to $27.39.
Good news failed to bolster a number of tech issues as nervousness ahead ofa Fed policy meeting Tuesday prevailed. Dell Computer (Nasdaq: DELL), forexample, slipped 57 cents to $23.91 even as the company announced amarketing alliance with EDS (NYSE: EDS) that is expected to generate more than $500million in sales over the next five years.
Similarly, WebMethods (Nasdaq: WEBM) lost $1 to $21.80 despite announcing acontract to provide International Paper (NYSE: IP) with a system for doingbusiness over the Internet.
Rate Cut Expected
Fed policymakers meet Tuesday to determine the course of interest rates overthe near term, and a half-point cut in the key lending rate is being predicted bymost analysts. However, strong economic data released Friday has reportedlycalled the size of the expected cut into question — or at least sparkeddoubt about future rate cuts.
On Friday, the U.S. Department of Commerce said retail sales rose 0.8percent in April, showing that consumers continued to spend money even amidreports of job cuts and economic weakness. And the Labor Department'sproducer price index showed that inflation at the wholesale level was not asstrong as expected.
In addition, the University of Michigan's index ofconsumer sentiment reportedly rose in May, against expectations for adecline.
Inventories, Production Down
Monday's economic reports were a mixed bag. The Commerce Department said that business inventories fell in March, showing that companies were getting rid ofunsold stockpiles. But the Fed said industrial production dropped in Aprilfor the seventh consecutive month, a sign that manufacturing remains weak.
Stocks were lower across the board at midday. The Dow Jones IndustrialAverage was down 3.91 at 10,817.40, and the Standard & Poor's 500 stock index was down 3.16 at 1,242.51.
eBay, Amazon Slip
The E-Commerce TimesIndex of 15 prominent e-tailers was down 2.68 percent. eBay (Nasdaq:EBAY) was down 34 cents at $52.91, Amazon.com (Nasdaq: AMZN) was down 79cents at $13.88, and Priceline.com (Nasdaq: PCLN) was down 35 cents at$4.46.
Among Monday's tech gainers, Digital Island (Nasdaq: ISLD) picked up 25cents to $3.38 after UK telecommunications giant Cable & Wireless agreed to buy the Internetservices company for US$3.40 per share, or a total of about $340 million.
FreeMarkets (Nasdaq: FMKT) rose 31 cents to $11.45 following news thatSchering-Plough signed a new two-yearcontract to buy and sell products using the company's onlinemarketplace, which marks the continuation of an existing deal.